Aunt Jen's Chicken Ginger Dumplings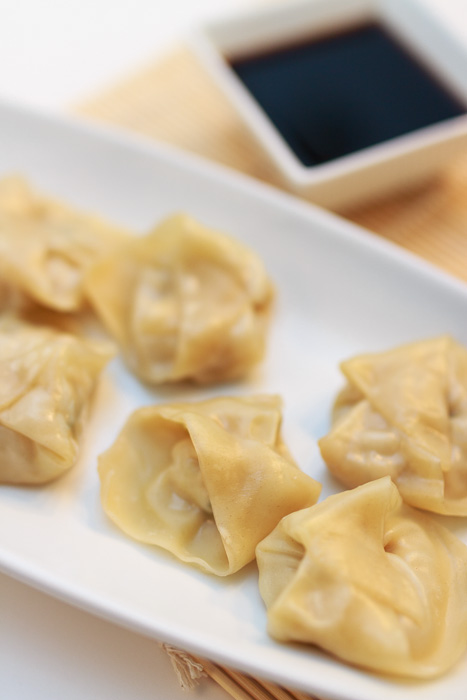 It seems most people that cook a fair amount have a signature dish. It may not even be their own recipe and it certainly doesn't have to be fancy, but when you tingle with anticipation knowing what they will bring to every dinner party, family outing or potluck, then you have discovered their signature dish.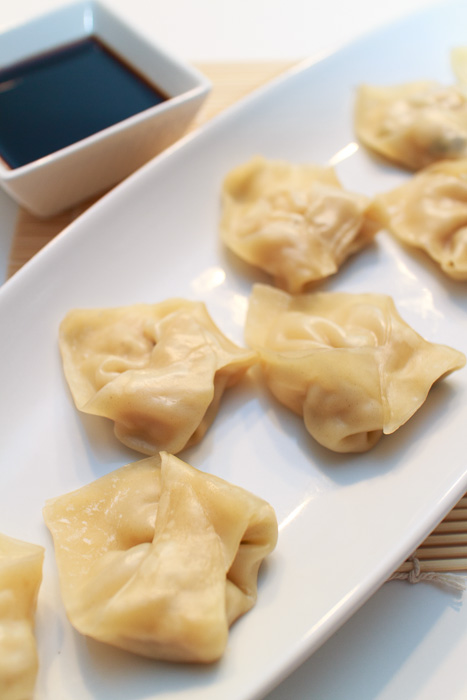 There are quite a few members of my family with multiple signature dishes. One of these talented people is my Aunt Jen. Everything she makes is delicious, but one of her party appetizers that always gets everyone into a mad feeding frenzy is her chicken dumplings.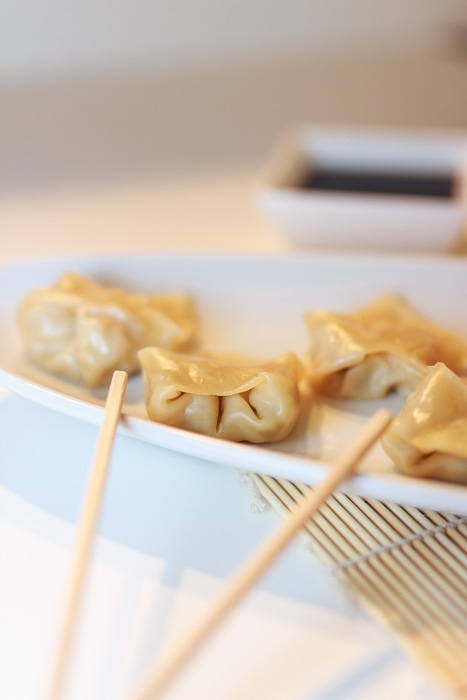 As with any dumpling, the filling is where this recipe stands out. Bursting with tender ground chicken and a punch of flavor from the ginger and scallions these bites are perfectly paired with any soy sauce based dipping sauce you have on hand.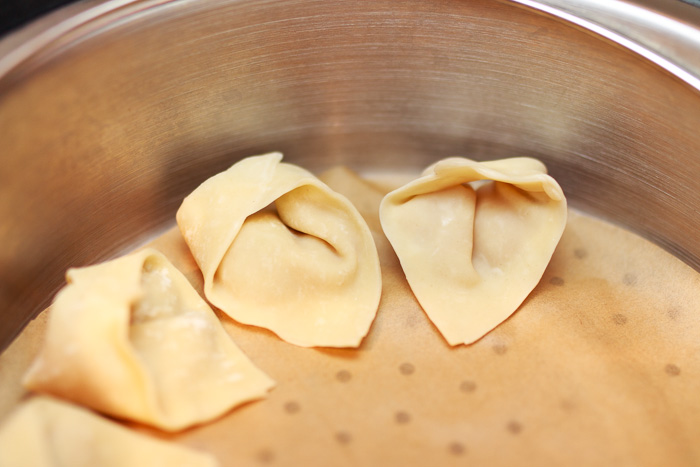 The second best part of these dumplings, because you can't compete with the taste, is that other than the time involved, creating these smash party bites is a quite simple process.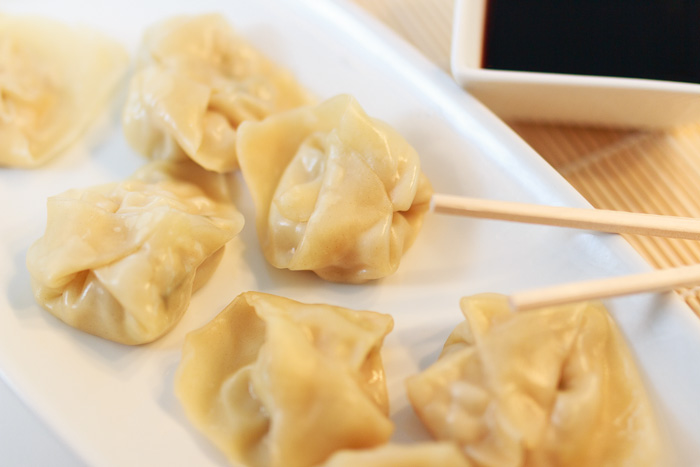 Throw together the filling in a food processor, stuff and enclose the pre-made wrappers and steam. Then eat of course. Or share if you're nice like my Aunt Jen.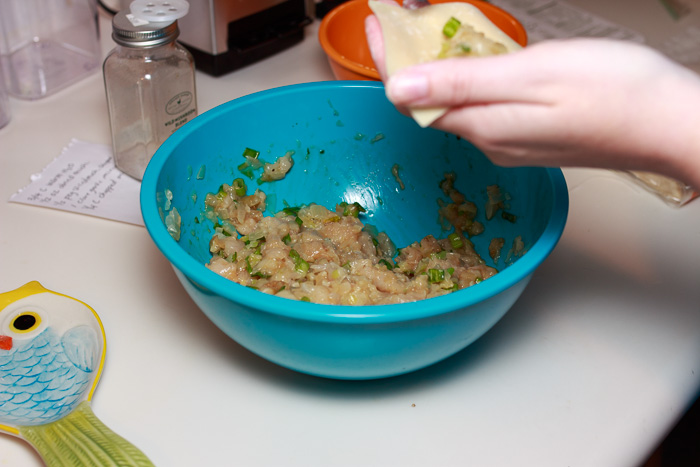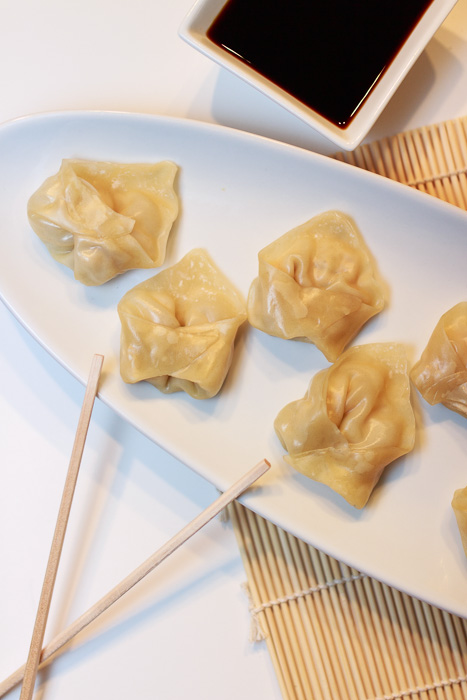 Aunt Jen's Chicken Ginger Dumplings
Yield:
6-8 appetizer servings
Ingredients
3 tablespoons olive oil, divided
1 yellow onion, diced
2 cloves garlic, minced
1 tablespoon fresh ginger, minced
6 scallions, white and green separate, chopped
2 boneless skinless chicken breasts
2 teaspoons low sodium soy sauce
1 tablespoon cilantro, chopped, optional
1 package wonton wrappers, about 40-50 wrappers
Salt and pepper
Directions
Line a baking sheet with parchment paper and set aside. If you are going to cook them right away then prepare a steamer basket by lining with a round piece of parchment paper. This will keep the dumplings from sticking while they cook. I've read that you can also use a small plate, but I've never tried it.
Heat 1½ tablespoons of the olive oil in a large pan over medium-high heat. Sauté the onion, garlic, ginger and white parts of the scallions until fragrant and the onions are slightly translucent.
Combine the chicken and sautéed vegetables in a food processor and pulse until finely chopped.
Place the processed chicken mixture into a medium mixing bowl then add the green parts of the scallions, the soy sauce, the remaining 1½ tablespoon of olive oil, salt, pepper and cilantro, if using. Mix until just combined.
Fill a small bowl or cup with warm water and set aside. Make sure wonton wrappers not in use are covered so they don't dry out. To fill the dumplings place a teaspoon of filling in the center of a wonton wrapper. Use your finger to rub some water onto the edge of the wrapper to help it seal together. When folding in half bring two corners together to create a large triangle, making sure to squeeze out any air. Tightly pinch with your fingers to seal. To create the shape in these images bring the two opposite points of the triangle together and pinch. Lay the sealed dumplings on the baking sheet while you are making the rest.
If you are cooking the dumplings right away steam them in a single layer on the parchment paper lined steamer basket for 12 minutes. Once they are cooked you can sauté them in sesame oil for a couple minutes on each side if desired. Serve with soy sauce. If you are freezing them for later place the baking sheet in the freezer until they have frozen individually before moving them all to a large freezer bag. To cook from frozen steam for at least 20 minutes. Whether you are cooking right away or freezing the dumplings for later work in batches so they aren't sitting out for too long. This might cause them to dry out and lose their seal.