Pacific Halibut Foil Packets with Shiitakes & Snap Peas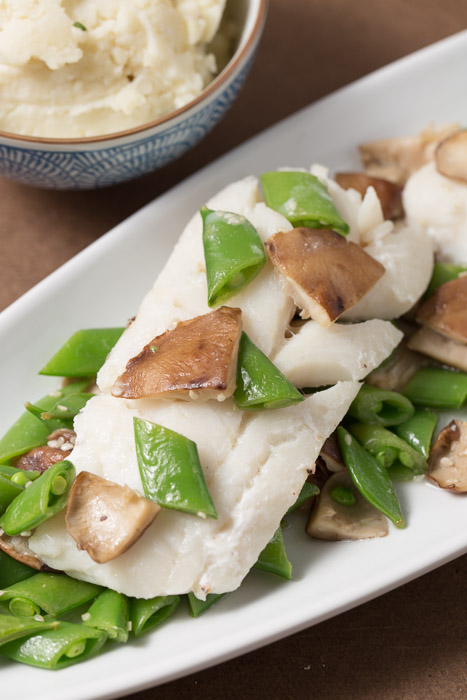 Today is Earth Day! While I was brainstorming how Lemon & Mocha would celebrate Earth Day I determined that as delicious as cookies made to look like our green and blue planet might be they wouldn't really capture the spirit of this environmental holiday. So, as cheesy as it sounds, I decided to make and share something that will have a minor impact on our environment. Certainly a very teeny minor impact, but an impact nonetheless.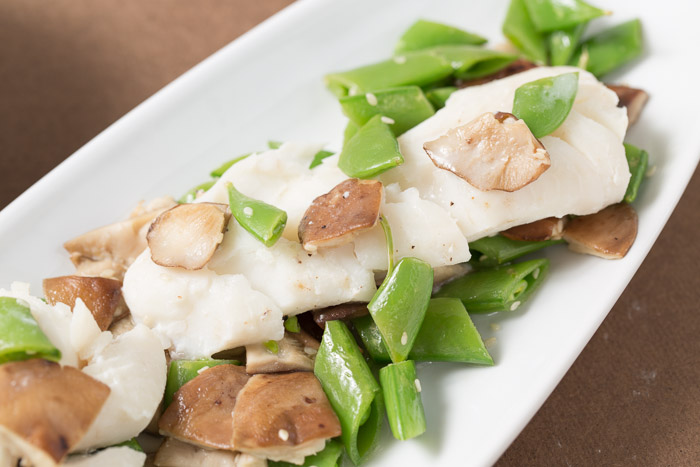 It is rare that I cook fish in our house, mostly due to cost and Matt's unfortunate high school homecoming incident with a salmon-scented outfit, but that's a story for another day. Since I do not purchase much seafood I had never given the information about trying to purchase sustainable seafood much thought. When Matt and I were in Seattle last year we went on a food tour during which one segment the famous "fish guys" at Pike Place Market talked to the group about the importance of sustainable seafood.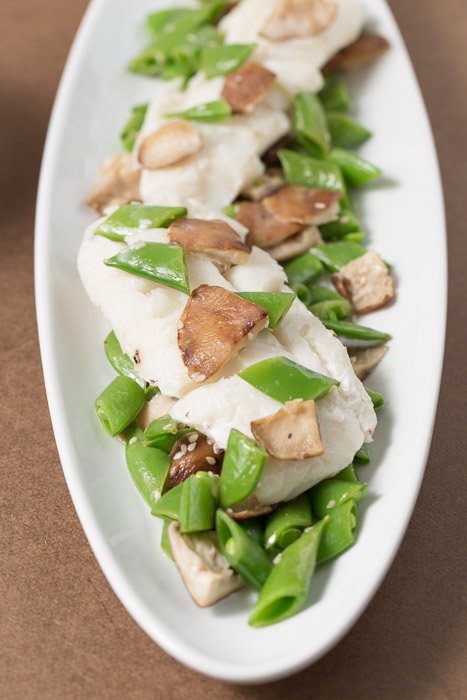 Not all seafood is created equal. There are some seafood that are sourced from oceans or farms in a way that is negatively impacting the ecosystem and is not a viable long-term method for obtaining that seafood. By contrast, seafood that has been deemed sustainable is coming from sources that are not harming the seafood's environment and they have the ability to maintain or even increase production of the seafood.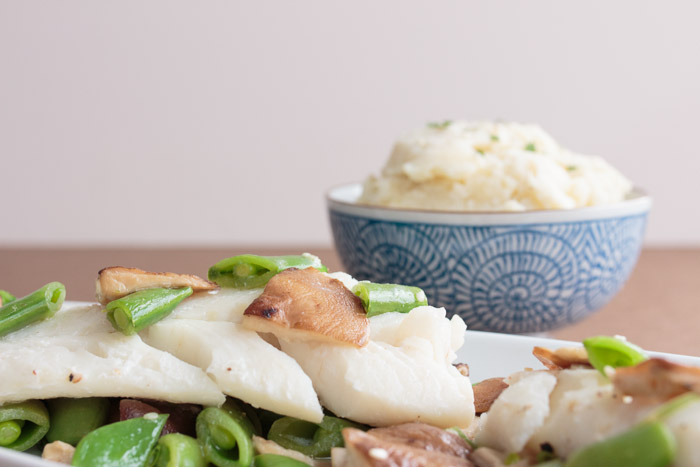 Would I want to live in a world where I couldn't have a fresh rainbow roll, grilled salmon or shrimp scampi? No thank you! Not to mention the disastrous effect it could have on the surrounding ecosystems if more seafood were to become extinct. Now I'm not suggesting we all write letters to unsustainable fish farms and boycott restaurants that aren't serving sustainable seafood. But if, as consumers, we all made some easy swaps during our weekly grocery trips from an overfished seafood to a good sustainable option then our individual very teeny minor impacts would grow into much stronger impacts.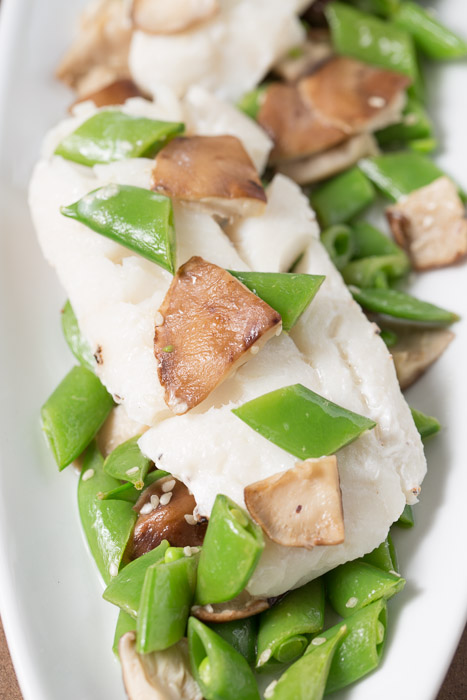 You can discover what are the best sustainable seafood options for your region using these handy printable sustainable guides published by Seafood Watch.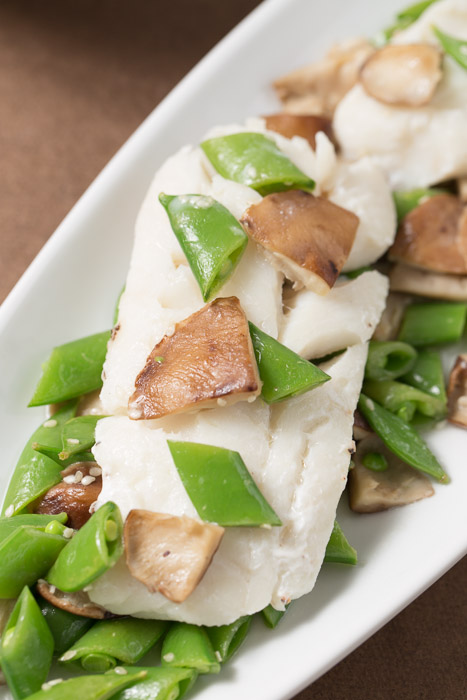 Pacific Halibut Foil Packets with Shiitakes & Snap Peas
Ingredients
2 4-ounce skinless pacific halibut fillets, or whatever light fish is sustainable for your region
4 tablespoons unsalted butter, divided
6 thin lemon slices
4 ounces shiitake mushrooms
4 ounces sugar snap peas, strings removed and sliced on the diagonal about three or four times each.
½ teaspoon toasted sesame seeds
Salt and pepper
Directions
Preheat the oven to 400 degrees F.
Tear off two large pieces of tin foil that will easily encase each fillet of fish. If you aren't using non-stick foil, lightly spray the foil with cooking spray before laying down the piece of fish. Season both sides with salt and pepper. Spread 1 tablespoon of butter onto each fillet then top each fillet with three slices of lemon. Turn in the sides of the foil then close the top before tightly sealing it into a little foil packet. Place the foil packets on a baking dish and bake in the oven for 20 minutes or until the fish flakes easily.
Meanwhile heat the remaining two tablespoons of butter over medium heat, swirling frequently, until it turns golden brown in color, about 6 minutes. Add the mushrooms and cook for 5 minutes, stirring often.
Add the sliced peas, as well as 1 tablespoon of water, and cook for about 4 minutes. The peas should be bright green.
Remove from the heat, season with salt and pepper, then add the toasted sesame seeds.
To serve, lay the halibut fillets on a serving dish or individual plates, top with some of the liquid from the foil packet, then top with the shiitake and pea stir-fry.
Recipe adapted from

Fine Cooking
.