Pacific Halibut Foil Packets with Shiitakes & Snap Peas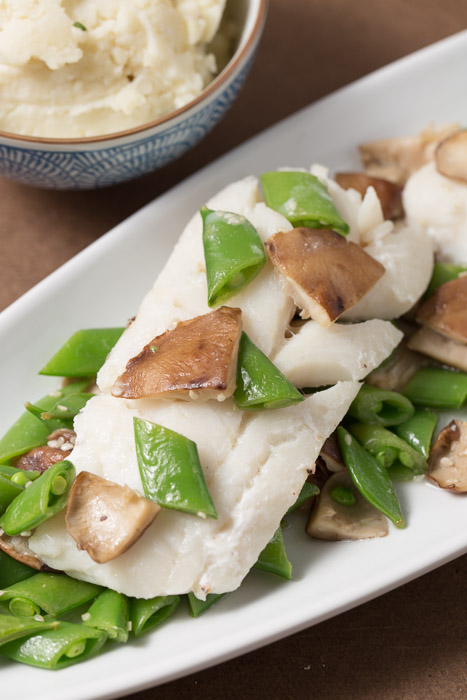 2 4-ounce skinless pacific halibut fillets, or whatever light fish is sustainable for your region
4 tablespoons unsalted butter, divided
6 thin lemon slices
4 ounces shiitake mushrooms
4 ounces sugar snap peas, strings removed and sliced on the diagonal about three or four times each.
½ teaspoon toasted sesame seeds
Salt and pepper
Preheat the oven to 400 degrees F.
Tear off two large pieces of tin foil that will easily encase each fillet of fish. If you aren't using non-stick foil, lightly spray the foil with cooking spray before laying down the piece of fish. Season both sides with salt and pepper. Spread 1 tablespoon of butter onto each fillet then top each fillet with three slices of lemon. Turn in the sides of the foil then close the top before tightly sealing it into a little foil packet. Place the foil packets on a baking dish and bake in the oven for 20 minutes or until the fish flakes easily.
Meanwhile heat the remaining two tablespoons of butter over medium heat, swirling frequently, until it turns golden brown in color, about 6 minutes. Add the mushrooms and cook for 5 minutes, stirring often.
Add the sliced peas, as well as 1 tablespoon of water, and cook for about 4 minutes. The peas should be bright green.
Remove from the heat, season with salt and pepper, then add the toasted sesame seeds.
To serve, lay the halibut fillets on a serving dish or individual plates, top with some of the liquid from the foil packet, then top with the shiitake and pea stir-fry.
Recipe by
Lemon & Mocha
at http://www.lemonandmocha.com/2014/04/22/pacific-halibut-foil-packets-with-shiitakes-snap-peas/