Blueberry Sour Cream Pancakes with Blueberry Syrup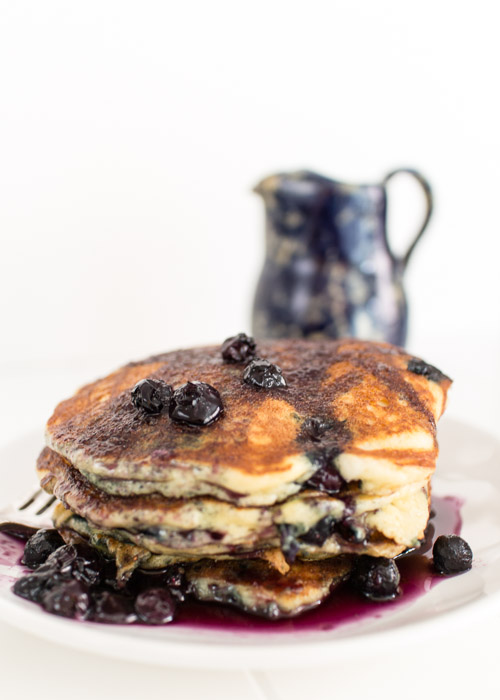 When weekdays often consist of grabbing a bagel on the way out the door or eating a yogurt at the office there's something so satisfying about sitting down for a hearty Saturday breakfast. Growing up, weekend family breakfasts consisted of bacon, eggs and homemade pierogies. If you haven't had the fortune of tasting a pierogi it is an outrageous potato and cheese dumpling, but that's a story for another day.
Unfortunately, since living on my own I don't have my grandma to stock my freezer with homemade pierogies and for the sake of my recently acquired slow adult metabolism I try to only keep bacon in my apartment for special occasions. But sometimes I wake up on a Saturday morning with an urge that can only be satisfied by a grand mid morning meal and pancakes have become my new savior.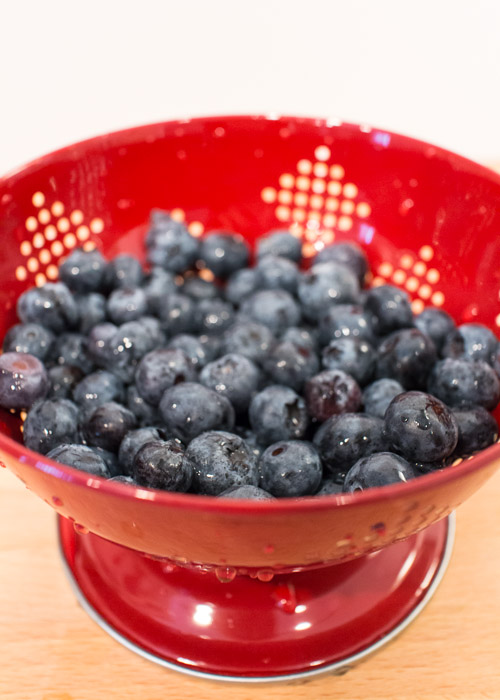 Do you have some eggs, milk and a few essential baking ingredients? Boom! Pancakes! I tend to have leftover ingredients from my different kitchen experiments and I always end up having to be creative about using them. A few Saturdays ago I was staring at a half empty container of light sour cream in my fridge when a light bulb went off. I ran to my bookcase (okay, I probably walked), pulled out my Pioneer Woman cookbook and there it was: "Edna Mae's Sour Cream Pancakes."
If you're sitting here reading this thinking, "Yuck! Sour cream pancakes?", shame on you! These golden discs from the heavens are crisp on the outside, fluffy on the inside and have a nice lightness about them that you don't get from regular pancakes.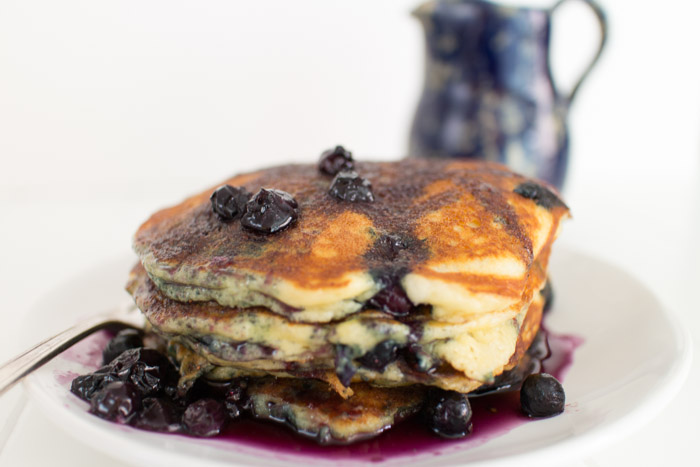 More fridge staring inspired the addition of the blueberries. Berries are expensive so I didn't want to just plop them in the pancake batter. If I was going to use these berries I was going to make them shine. This blueberry syrup is laughably easy, but the tartness of the berries mellowing out the sweetness of the syrup will take your pancakes to the next level. I used a combination of fresh and frozen blueberries so feel free to use whatever is staring at you from your fridge or freezer.
Blueberry Sour Cream Pancakes with Blueberry Syrup
Ingredients
for the pancakes
1 cup sour cream
7 tablespoons all-purpose flour
1 tablespoon sugar
1 teaspoon baking soda
½ teaspoon salt
2 large eggs
½ teaspoon vanilla extract
1 cup blueberries
Butter
for the syrup
½ cup maple syrup
1½ cup blueberries
Directions
Put the sour cream in a medium mixing bowl. Sift in the flour, sugar, baking soda and salt.
Stir together until just combined. The batter will be lumpy.
In a separate bowl, whisk together the two eggs with the vanilla.
Pour the egg mixture into the sour cream and flour mixture. Stir until just combined.
Place a frying pan or griddle over medium-low heat. Once the pan is hot melt a tablespoon of butter and wait for it to bubble.
When the butter is bubbling, pour ¼ cup of batter for each pancake. Try not to overcrowd your pan; the amount of pancakes you can fit will depend on your pan's size. Leave some space between the pancakes as they will expand when you add the blueberries.
As soon as the batter is in the pan, place a small handful of blueberries on each pancake.
Cook until the pancake is covered with tiny bubbles on the top, then flip. Cook for another two minutes then remove from the pan.
Add some more butter and repeat with the remaining batter until you have cooked all your pancakes.
While the pancakes are cooking, make the syrup. Put the syrup and the blueberries in a small saucepan and bring to a boil over medium-high heat. Let the syrup boil for 3 minutes then remove from the heat. Slightly mash the blueberries with a wooden spoon or potato masher, keeping some of the blueberries whole. Pour the syrup into a small pitcher and place on the table with the pancakes.
Notes
I add my blueberries to each pancake individually as I have noticed when I add them to the mixing bowl they all sink to the bottom. Adding individually means you get to be more precise, but it also does spread out the pancakes quite a bit so be cautious when determining how many pancakes will fit in your pan.
Pancakes from

The Pioneer Woman Cooks: Recipes from an Accidental Country Girl

.
Blueberry syrup from

Nigella Lawson at Food Network

.