Sun-dried Tomato & Kalamata Olive Lemon Pasta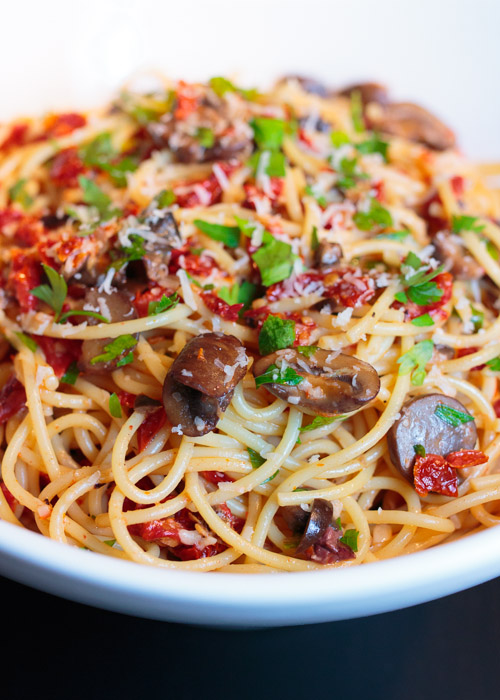 I find it amazing how much our taste in food adapts and evolves as we age. Do you know children often need to be introduced to a food 15-20 times before deciding whether they like or dislike it? I must have never given many of the ingredients in this dish a proper chance because if I told my 10-year-old self that I would be happily chowing down a bowl of pasta with mushrooms, garlic, lemon and… olives? Gasp! Unthinkable!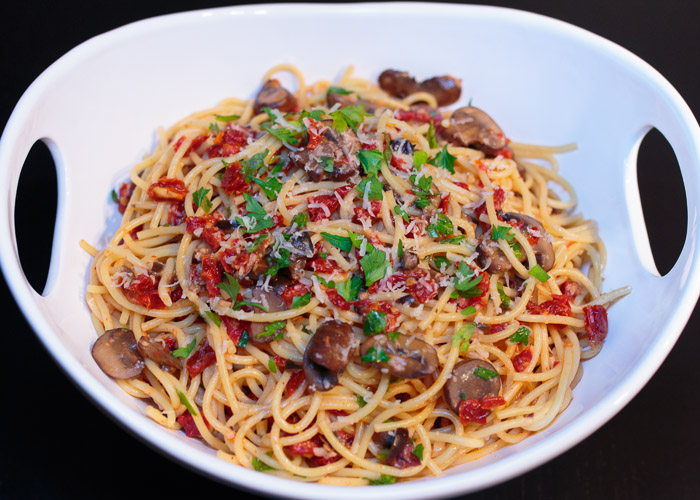 For my whole childhood and early young adulthood, I was an olive hater. It was more than simple dislike of olives; when others ate them I would scrunch my face up and say, "Ew, gross, you like olives??" Clearly I was particularly mature for my age.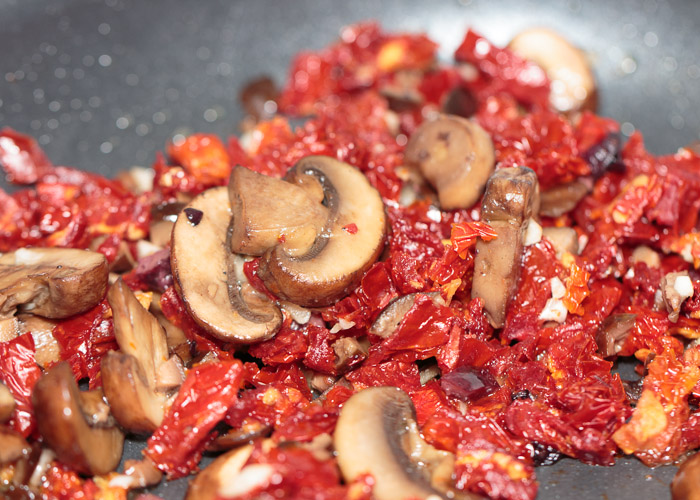 But this pasta here, this is miracle pasta. Whether you snarf down olives by the jar or their briny smell makes you run away, you must try this pasta dish. The savory mushrooms and pasta are perfectly balanced by the saltiness of the olives and Parmesan. The lemon and parsley provide a fresh finish and help keep the dish light. This recipe is easily adaptable as you can adjust it to your own preferences. A few more mushrooms, a little less garlic, it's up to you. If you're feeling super adventurous you could even load up on the olives.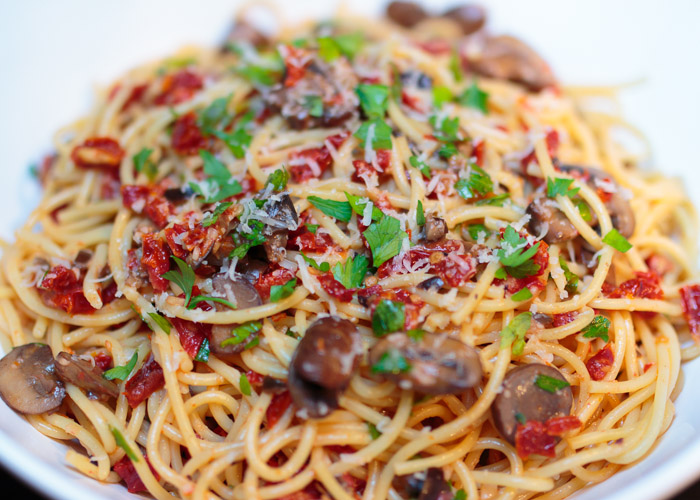 Since I'm still warming up to olives and don't want a whole jar of them sitting in our fridge I usually get what I need from the salad bar at my grocery store. Sometimes if you put them in the little dressing container they won't even charge you! Now hurry up and get cooking!

Sun-dried Tomato & Kalamata Olive Lemon Pasta
Ingredients
12 ounces thick spaghetti
3 tablespoons olive oil
2 teaspoons minced garlic
1 cup sliced mushrooms
¼ cup kalamata olives, pits removed & chopped
3 tablespoons lemon juice
1 cup chopped sun-dried tomatoes
1 tablespoon lemon zest
⅓ cup fresh grated parmesan, plus more for serving
½ cup fresh chopped parsley
Directions
Cook the spaghetti al dente. When draining the cooked pasta, reserve 1 cup of the cooking water.
While the pasta is cooking heat the oil in a large skillet over medium heat. Add the garlic and mushrooms, stirring occasionally.
After 5 minutes, or once the mushrooms look almost browned, add the olives, lemon juice and sun-dried tomatoes. Cook for 3 minutes.
Add the cooked spaghetti, lemon zest and parsley to the skillet. Toss together in the skillet then add ⅓ cup of the reserved water. Add more reserved water if there is not enough sauce to coat the spaghetti.
After pasta is tossed, top with the parmesan.
To serve top with more parmesan if desired.
Notes
I use dry-packed sun-dried tomatoes when I make this recipe. If you use oil-packed sun-dried tomatoes instead you may want to reduce the amount of oil in the second step of the recipe.
Recipe adapted from September 2013 issue of

Women's Health

.