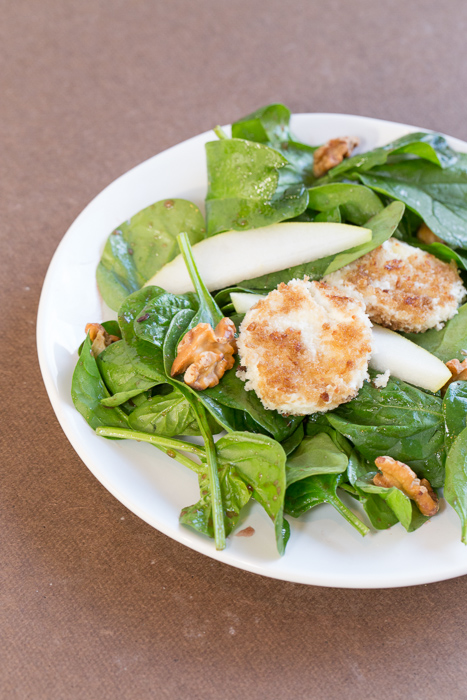 I often get inspired by dishes I have out at restaurants. Sometimes it is because the dish was so fantastic that I dream about it day and night. I develop an obsessive nonstop craving for it and must recreate it myself to satisfy this craving. Sometimes the dish wasn't all that great, but in theory it sounded amazing. That is when I know I must recreate it to help the dish live up to its potential. The later was the case with this salad. A spinach salad with fried goat cheese, pears and toasted walnuts. The minute I saw it written on the menu my mouth started watering.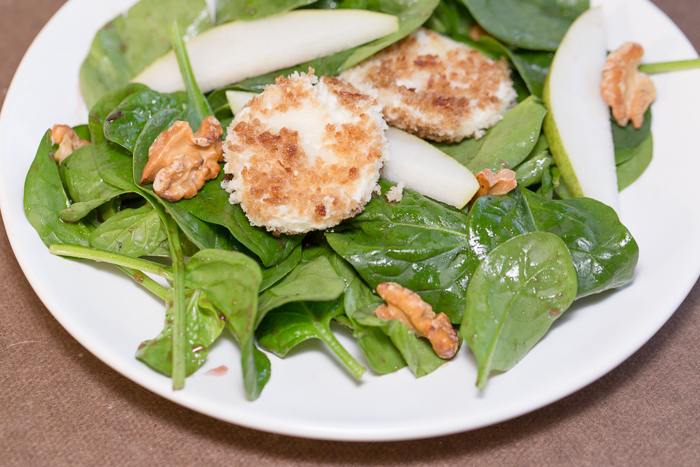 I have an affinity for goat cheese with its creamy texture and tangy taste so the thought of adding a crispy exterior had me over the moon with delight. Then adding pears for sweetness balanced by the toasted walnuts for crunch and an earthiness? Genius workings of a perfect salad in my eyes. But then it came to the table and the first bite was a serious letdown. The dressing was bland and the fried goat cheese was overpowered by breading. I knew the salad was meant to be amazing so a week later I set out to help it reach its full potential.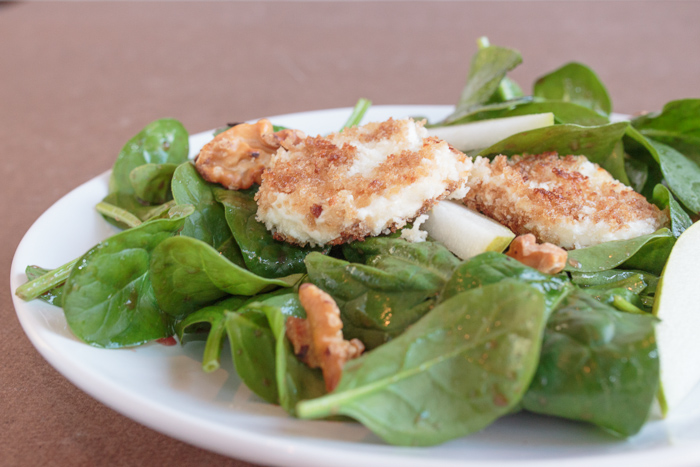 This spinach salad with fried goat cheese, pears and toasted walnuts with a pomegranate molasses vinaigrette exceeds expectations beyond what my wildest dreams had imagined. The fried goat cheese has a very light yet crunchy exterior which pairs perfectly with the refreshing spinach, pears and toasted walnuts, but what really makes this salad sing is the pomegranate molasses vinaigrette. Sweet and tangy this dressing packs a punch and is anything but bland. You only need a small amount so make sure you don't overdress the spinach.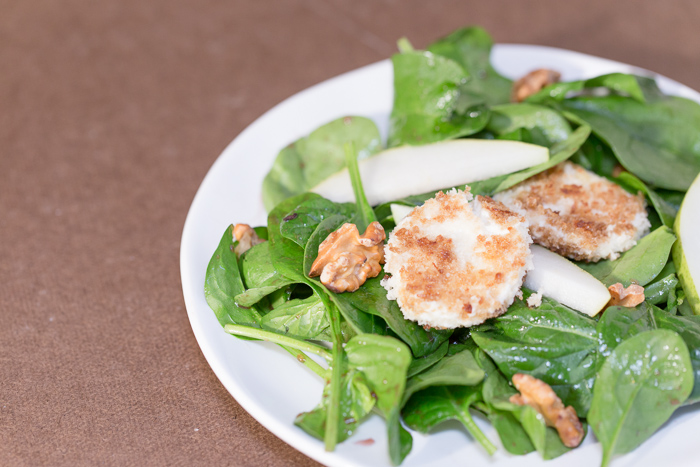 Typically, a salad is the last meal choice on my list, but that week I ate this salad every day, oftentimes for lunch and dinner. Now if that testament isn't enough to get you to make this salad right this minute, then I'm not sure what is.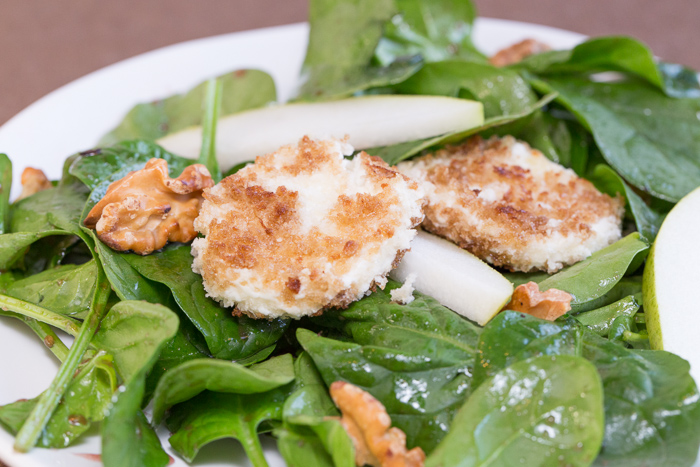 Spinach Salad with Fried Goat Cheese, Pears, Toasted Walnuts and a Pomegranate Molasses Vinaigrette
Yield:
4 servings, 1 cup dressing
Ingredients
for the fried goat cheese
8 ounces goat cheese or goat cheese with honey
2 egg whites
⅓ cup panko bread crumbs
for the dressing
¼ cup pomegranate molasses
2 tablespoons red wine vinegar
1 tablespoon Dijon mustard
1 tablespoon honey
¾ cup extra-virgin olive oil
Salt and pepper
for the salad
⅓ cup chopped walnuts
8 cups fresh spinach
2 pears
Directions
for the fried goat cheese
Place a small cooling rack over a baking sheet small enough to fit in your fridge then set aside.
Beat the eggs with 1 tablespoon of water in a small bowl. Place the breadcrumbs in a separate small bowl. Set aside.
Slice the goat cheese into ½" thick slices. The best way to cleanly cut goat cheese is with a small piece of dental floss.
Carefully dip each slice of goat cheese into the egg white mixture then the breadcrumbs before placing on the cooling rack. After all the pieces have been dipped let them chill in the fridge for at least 15 minutes.
When the goat cheese rounds have chilled, heat a sauté pan over medium-high heat with 1 tablespoon of olive oil.
Cook 2-3 minutes per side then remove from the heat.
for the dressing
Whisk together the pomegranate molasses, vinegar, mustard and honey until combined. Slowly whisk in the olive oil. Season with salt and pepper to taste.
for the salad
Preheat the oven to 350 degrees F. Evenly place the walnuts on a baking sheet and toast for 3-5 minutes or until lightly browned.
Thinly slice the pears.
Toss the spinach with some of the salad dressing. Divide dressed spinach onto 4 plates then top each plate with the ¼ of the toasted walnuts, ½ of the sliced pears and 2 pieces of warm fried goat cheese.
Vinaigrette from

Bobby Flay
.
Fried goat cheese from

Ina Garten
.