Spinach Salad with Fried Goat Cheese, Pears, Toasted Walnuts and a Pomegranate Molasses Vinaigrette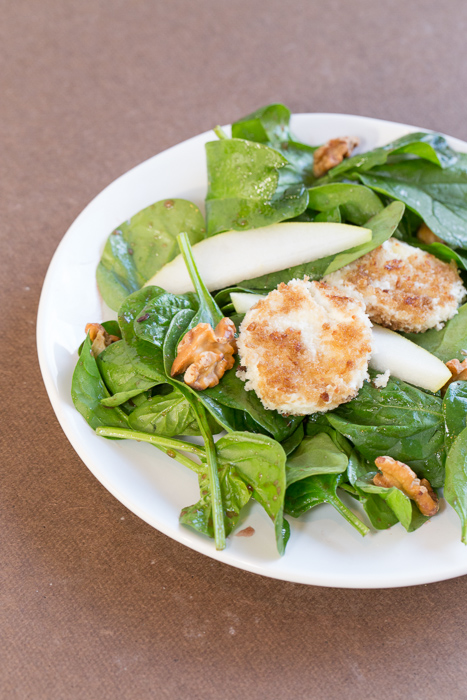 Yield:
4 servings, 1 cup dressing
8 ounces goat cheese or goat cheese with honey
2 egg whites
⅓ cup panko bread crumbs
¼ cup pomegranate molasses
2 tablespoons red wine vinegar
1 tablespoon Dijon mustard
1 tablespoon honey
¾ cup extra-virgin olive oil
Salt and pepper
⅓ cup chopped walnuts
8 cups fresh spinach
2 pears
Place a small cooling rack over a baking sheet small enough to fit in your fridge then set aside.
Beat the eggs with 1 tablespoon of water in a small bowl. Place the breadcrumbs in a separate small bowl. Set aside.
Slice the goat cheese into ½" thick slices. The best way to cleanly cut goat cheese is with a small piece of dental floss.
Carefully dip each slice of goat cheese into the egg white mixture then the breadcrumbs before placing on the cooling rack. After all the pieces have been dipped let them chill in the fridge for at least 15 minutes.
When the goat cheese rounds have chilled, heat a sauté pan over medium-high heat with 1 tablespoon of olive oil.
Cook 2-3 minutes per side then remove from the heat.
Whisk together the pomegranate molasses, vinegar, mustard and honey until combined. Slowly whisk in the olive oil. Season with salt and pepper to taste.
Preheat the oven to 350 degrees F. Evenly place the walnuts on a baking sheet and toast for 3-5 minutes or until lightly browned.
Thinly slice the pears.
Toss the spinach with some of the salad dressing. Divide dressed spinach onto 4 plates then top each plate with the ¼ of the toasted walnuts, ½ of the sliced pears and 2 pieces of warm fried goat cheese.
Recipe by
Lemon & Mocha
at http://www.lemonandmocha.com/2014/02/13/spinach-salad-with-fried-goat-cheese-pears-toasted-walnuts-and-a-pomegranate-molasses-vinaigrette/