Best Green Drink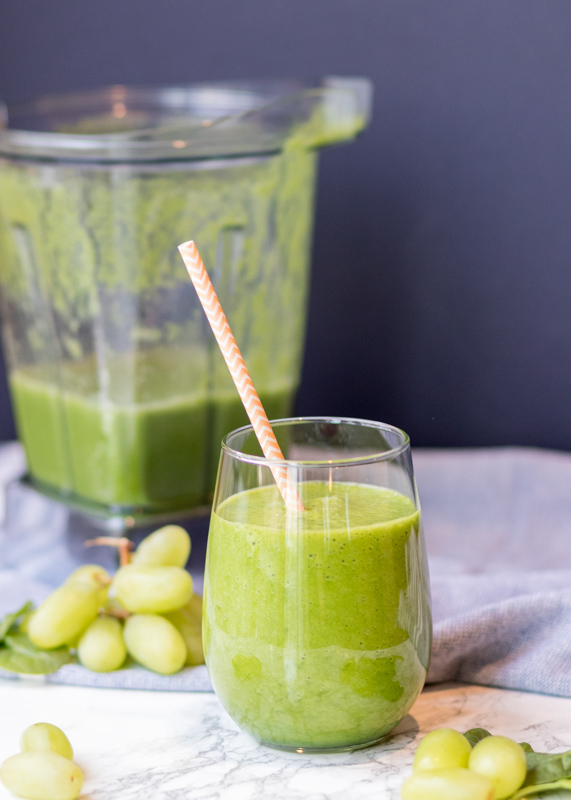 I hope everyone has been enjoying their long weekend so far! I wanted to pop on here real quick to share a delicious and healthy drink to help counteract all the hotdogs and s'mores that were most likely consumed over the last couple days! This green drink is very easy because all the ingredients get thrown into a blender. If you've never had a green drink before, don't be scared! They don't taste like spinach… well this one doesn't anyways. Instead, it tastes like pineapple. Yum!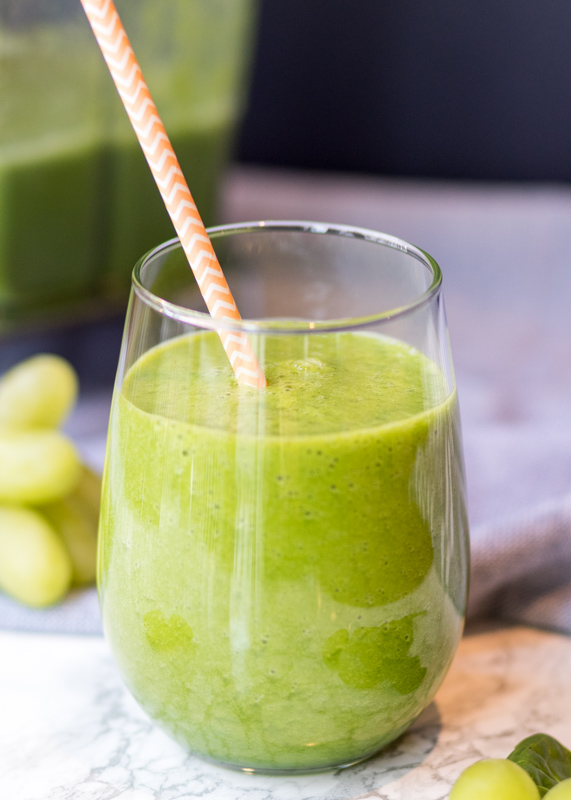 My Aunt Dottie got me hooked on green drinks and Vitamix a couple summers ago. She whipped one up and had me try it; I couldn't believe it actually tasted so good. Looking at it now I shouldn't have been surprised because it is loaded with yummy fruit. This is a variation of one of my Aunt's drinks and although Matt and I have tried many combinations this one remains our favorite.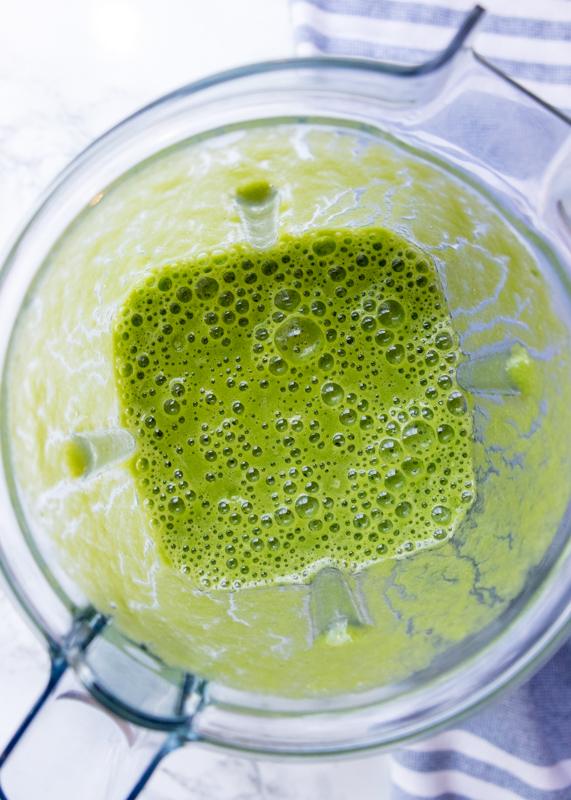 I waited until there was a good deal on QVC before I splurged on our Vitamix and I'm so happy I did. It pulverizes drinks, sauces and soups in seconds and it gets so much use in our kitchen. Ninja also makes a great high-speed blender and my friend makes green drinks in hers without any issues. It is very reasonably priced and definitely a more affordable, although still high quality, option – shop here. Okay, back to this drink!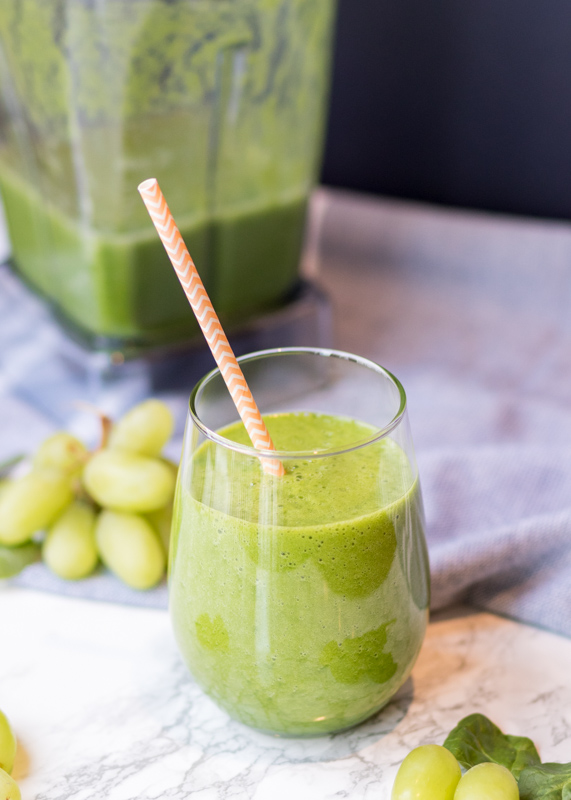 This green drink tastes very refreshing and I love how it makes me feel in the morning. I feel light and energized from all the vitamins I just consumed. One reason I like blender drinks over drinks made in a juicer is that all the fibers from the vegetables, which is where most of the nutrients are, get blended into the juice instead of being strained out. This recipe makes enough for two green drinks so Matt and I will split it in the morning.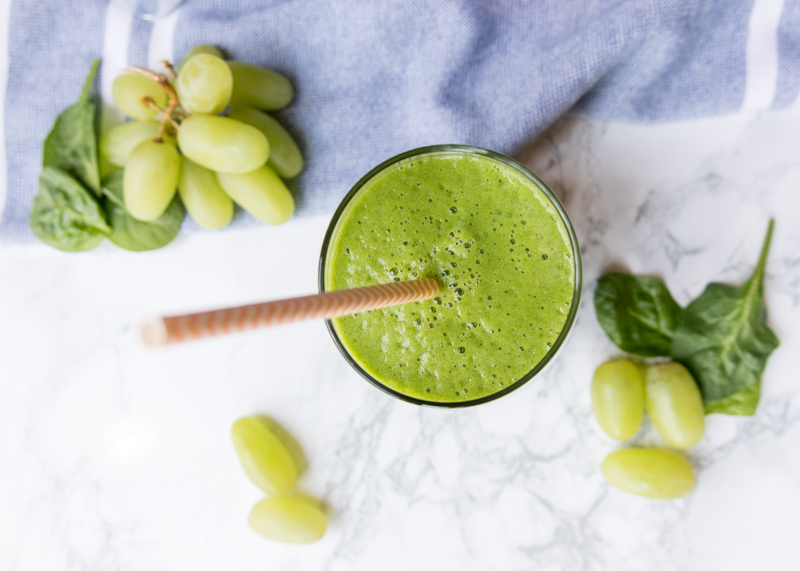 If you want this ready for busy mornings, I usually prep half of it the night before. I wash the grapes and celery before putting them in the blender container with the spinach. The blender container gets covered and placed in the fridge. Then I set a banana and 1/2 cup measuring cup on the counter along with my to-go cup and straw so I'm not rushing around looking for things in the morning. Since there's so much fruit in these drinks I usually try not eat too much more fruit during the day. Also, if you wanted to make it even healthier you could try adding Greek yogurt, protein powder or almonds for some added protein, although I prefer it without anything else added. Thanks for reading and I hope you all enjoy Memorial Day!
Best Green Drink
Ingredients
½ cup water
1 cup green grapes
1 stalk celery, snapped into thirds
3 cups packed spinach
1 banana, broken into a couple pieces
½ cup frozen pineapple
4 ice cubes
Directions
Put everything in a high-speed blender in the order listed. Blend on high until smooth and no spinach flecks remain, about 1 minute. Pour into 2 glasses and serve.
Notes
If you want to prep this the night before, put the grapes, celery, and spinach in your blender then put the covered blender in the fridge. The next morning, add the water, banana, frozen pineapple and ice cubes.
Some of the links above are affiliate links, which means I may receive a small commission for my referral. This does not affect the retail cost of the item. Thank you for supporting Lemon & Mocha!