10 Minute Mini Breakfast Tacos
This post was originally published on 8/29/2014. It was updated with new photos and content on 2/5/2019.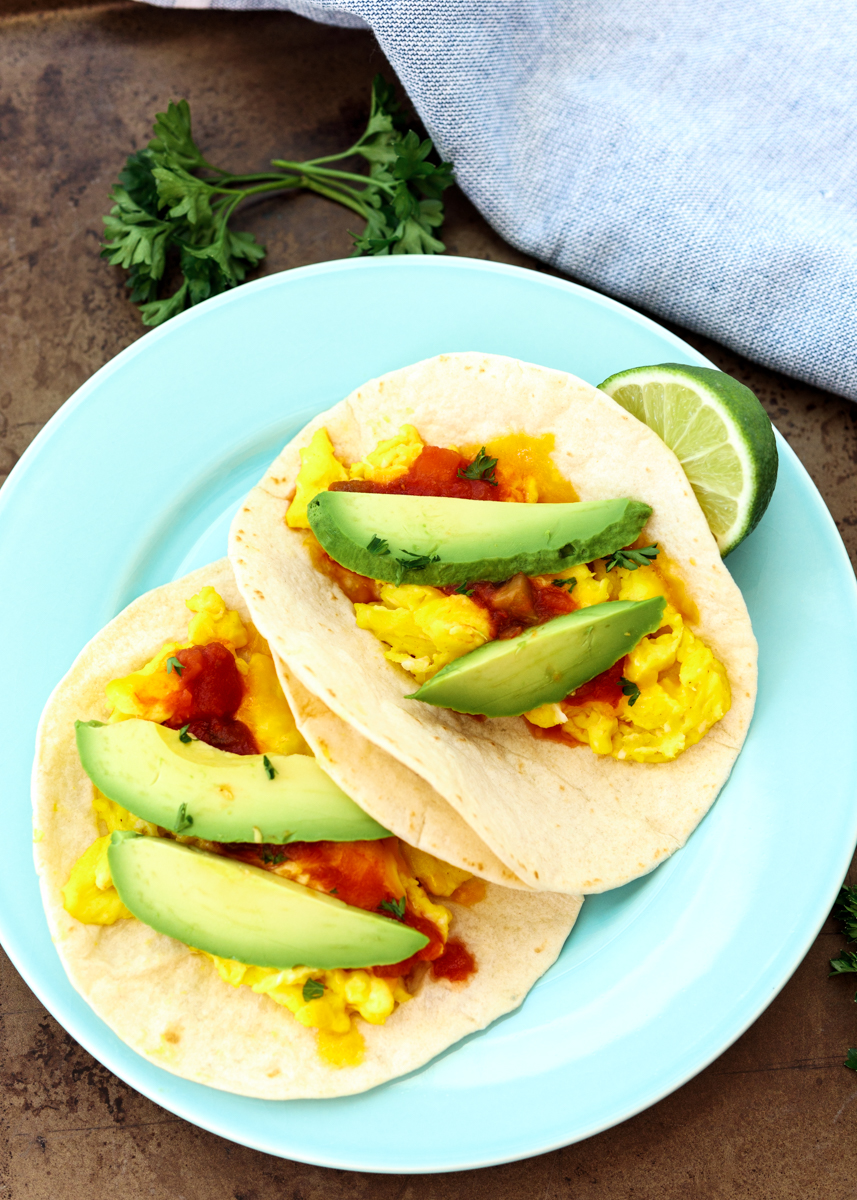 Sometimes the best dishes are the ones that take you under ten minutes to make, but still cause you to dance around the kitchen shouting, "Omg, this is SO good!" in between mouthfuls. Before getting reminded that your excited eating habits need to be worked on so the heimlich doesn't become necessary. But sometimes these things cannot be controlled. I'll work on it though.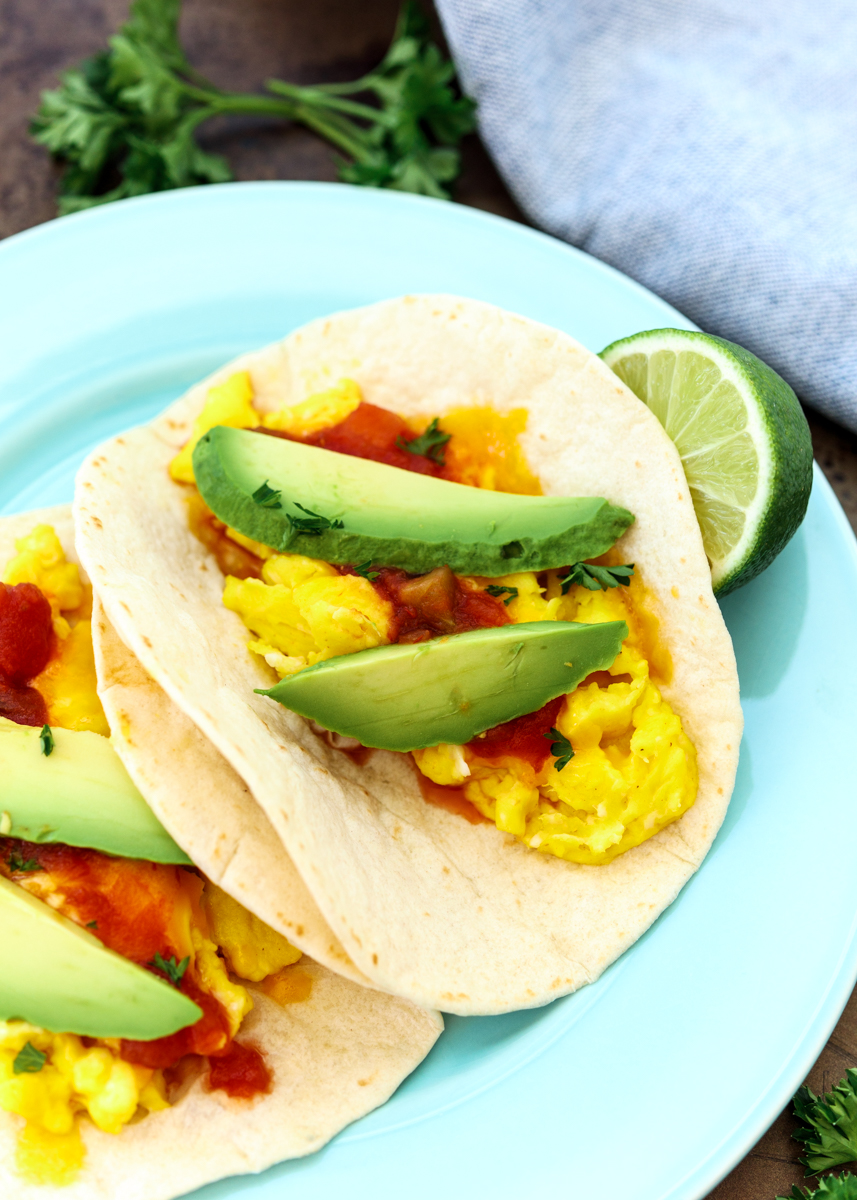 These mini breakfast tacos are the perfect mid-week breakfast, weekend brunch, after school snack, quick dinner and picnic staple. Okay, maybe not the last one. But for everything else this dish is up for the job. The recipe is so simple, but we like simple around here. Especially if it means we can have breakfast tacos for breakfast on a regular basis.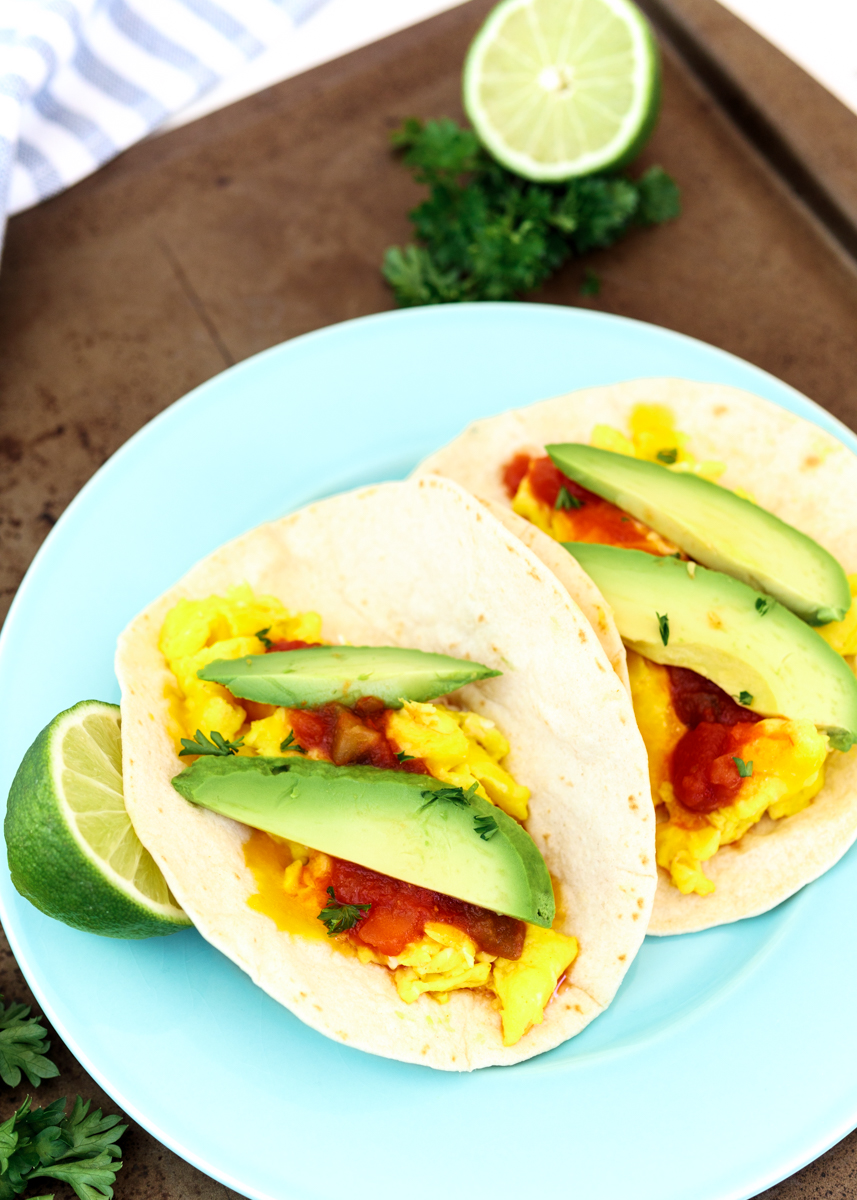 I like to add some creaminess to my scrambled eggs by adding a little cream cheese. It's a great trick someone taught me years ago. It doesn't impart the cream cheese flavor on the eggs, it just makes them creamy and fluffy. If you don't have any cream cheese, you can use a little milk instead. The eggs won't be as creamy as when you use cream cheese, but they will still be fluffier than just plain scrambled eggs.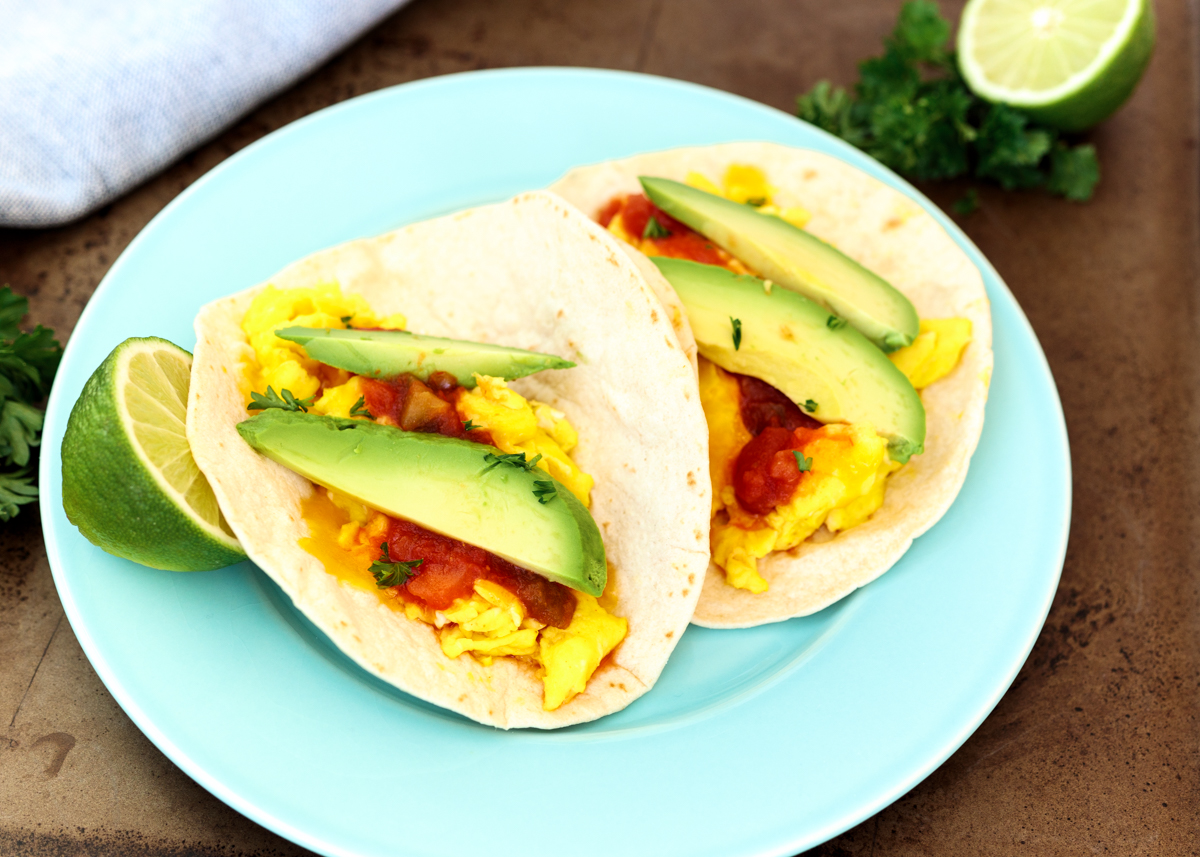 How easy is this dish? Well let's see, first you scramble up some eggs. Then you pile them on top of softened tortillas shredded cheese, salsa and avocado slices. Done! This is just a base recipe and you could definitely get more creative with your taco toppings. Roasted red peppers, corn salsa and pickled red onions are just some ideas off the top of my head. What would you pile on your breakfast tacos?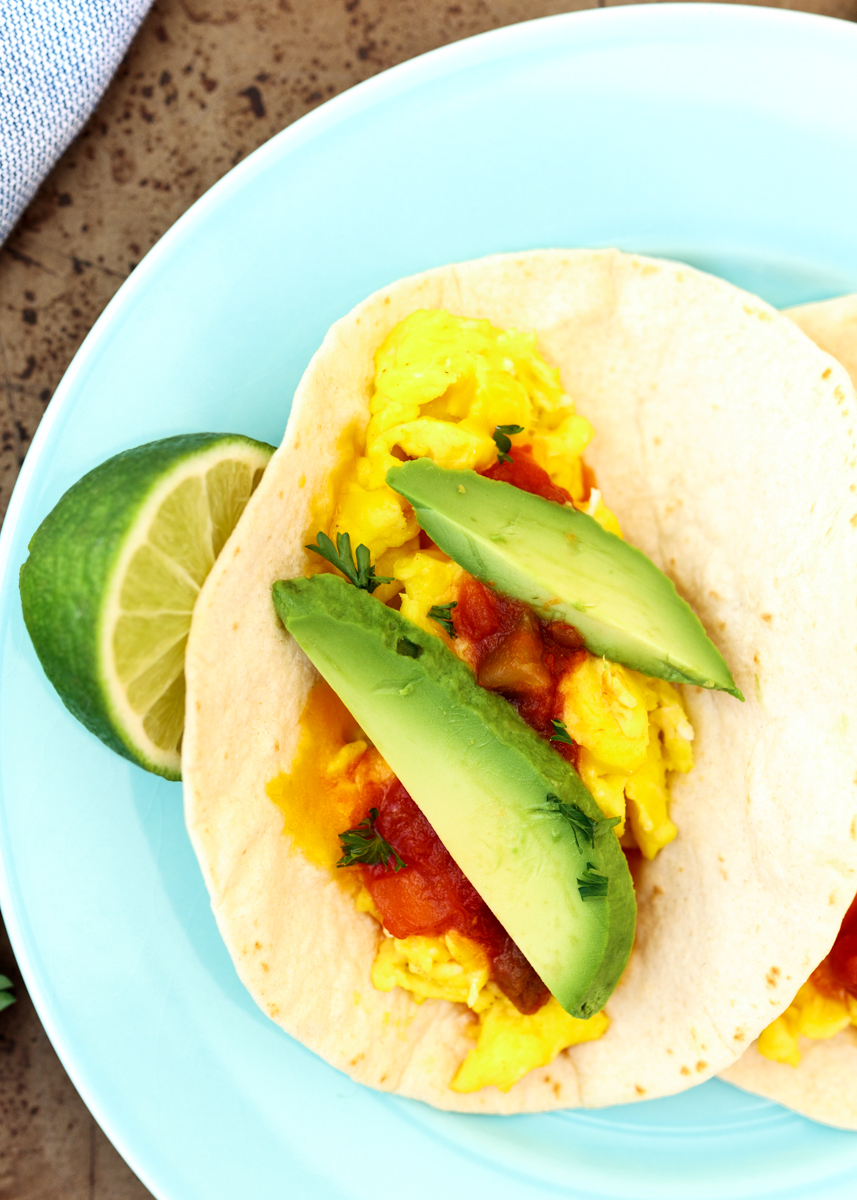 These 10 Minute Mini Breakfast Tacos are so easy it's dangerous. How can breakfast tacos be dangerous? Because while you're chomping away and exclaiming in delight how good they are you might require the heimlich. So eat responsibly folks.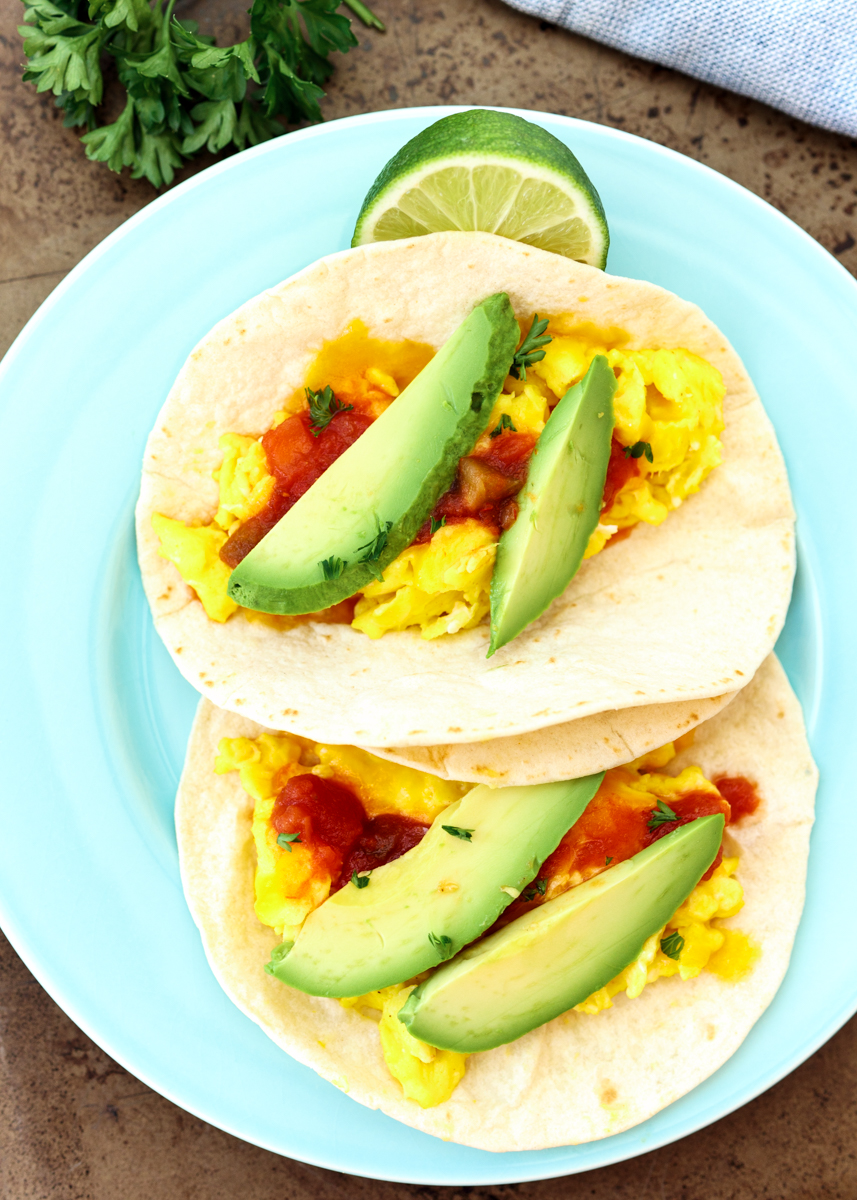 10 Minute Mini Breakfast Tacos
Ingredients
3 large eggs
1 tablespoon cream cheese or milk
Salt, pepper and a sprinkling of any other favorite seasonings (I like to sprinkle on some garlic powder, onion powder, paprika and cumin)
½ tablespoon butter or cooking spray
2 6-inch corn or flour tortillas
2 tablespoons shredded cheese (cheddar, monterey jack and pepper jack are all great options)
Salsa, avocado slices and any other desired toppings
Directions
In a small mixing bowl, beat the eggs until frothy. Add the cream cheese or milk, salt, pepper and desired other seasonings then lightly beat to combine. If you use cream cheese it won't be mixed in; that's fine.
Melt the butter, or heat the cooking spray, in a medium skillet over medium-low heat. Once melted, add the beaten egg mixture. Let the eggs cook a little then begin to scramble them, making sure to flip them over and break them up often so they remain light and fluffy without getting crispy.
Meanwhile cover the tortillas with a lightly damp paper towel and heat in the microwave for 45 seconds.
When the eggs have cooked through and are still fluffy (I like to take mine off when they are still very slightly wet) remove from the heat and divide over the top of the tortillas. Top with the shredded cheese. Add salsa, the avocado slices, and whatever other toppings you like.