Pineapple Bread Pudding
This post was originally published on 4/10/2014. It was updated with new photos and content on 4/19/2019.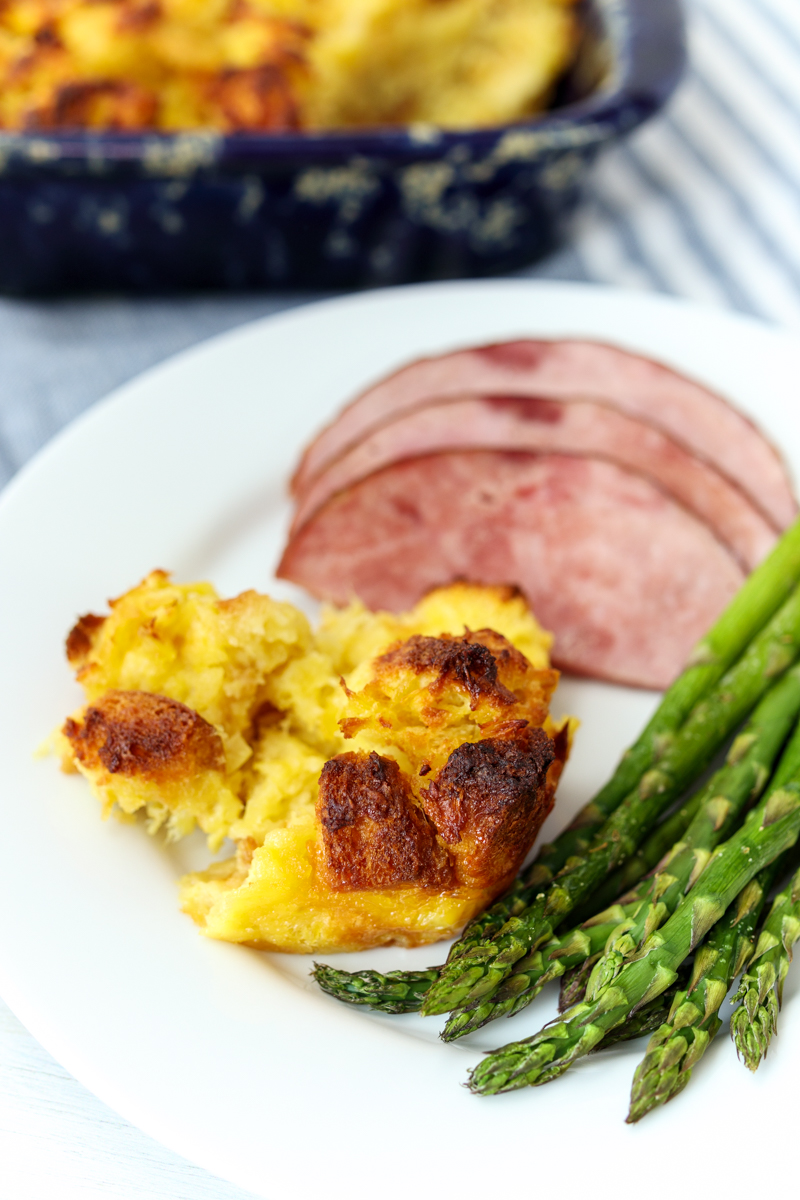 At Thanksgiving a while back there was a baked spiral ham that was served alongside Pineapple Bread Pudding. At first I was nervous as I've always had bread pudding exclusively as a dessert. Two servings later I was completely hooked. Fast forward to five years later and this is hands-down still my absolute favorite dish to eat with baked ham.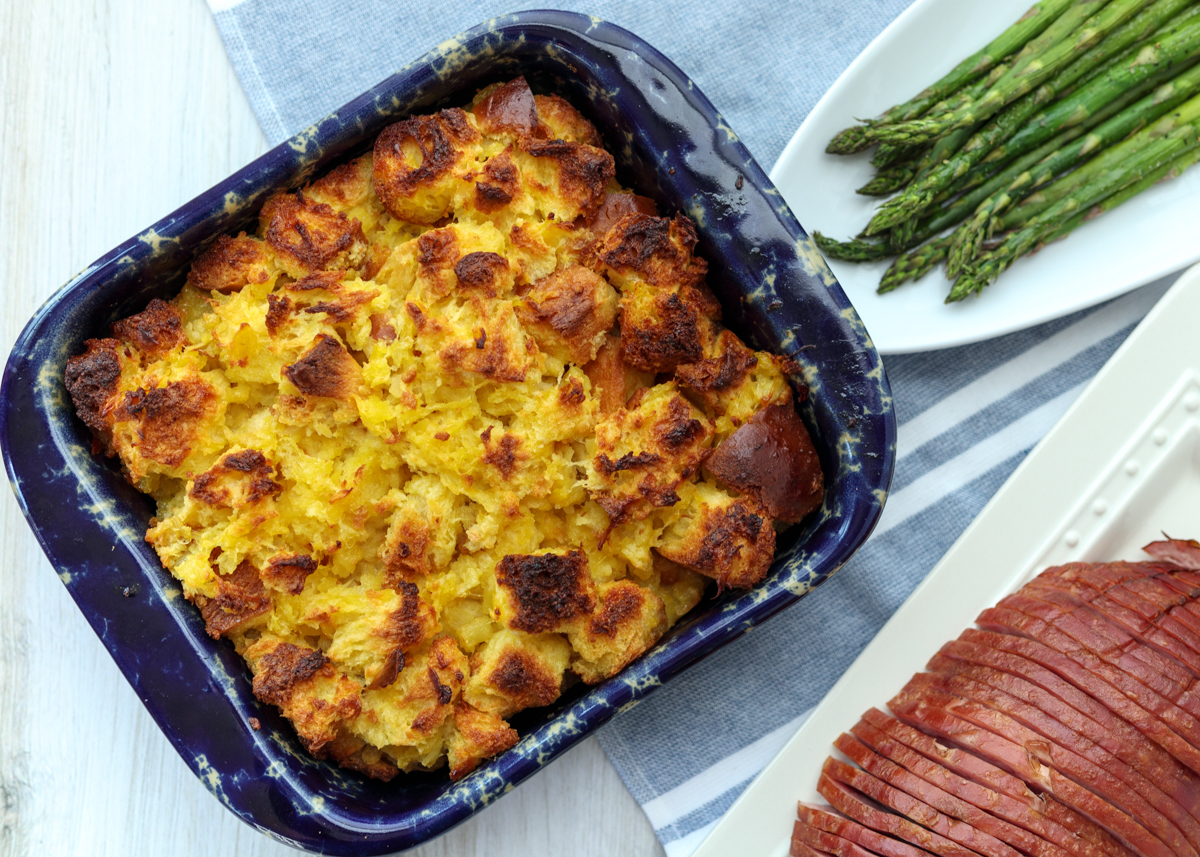 Bread pudding as a side dish? Sure it sounds strange, but after one bite you will be saying, "I can't believe I ever ate baked ham without this!" Except it will sound like, "Om nom nom nom," because when something is this delicious you don't have time for things like manners and not talking with your mouth full. But try to keep it classy, you don't want grandma giving you the stink eye at the dinner table.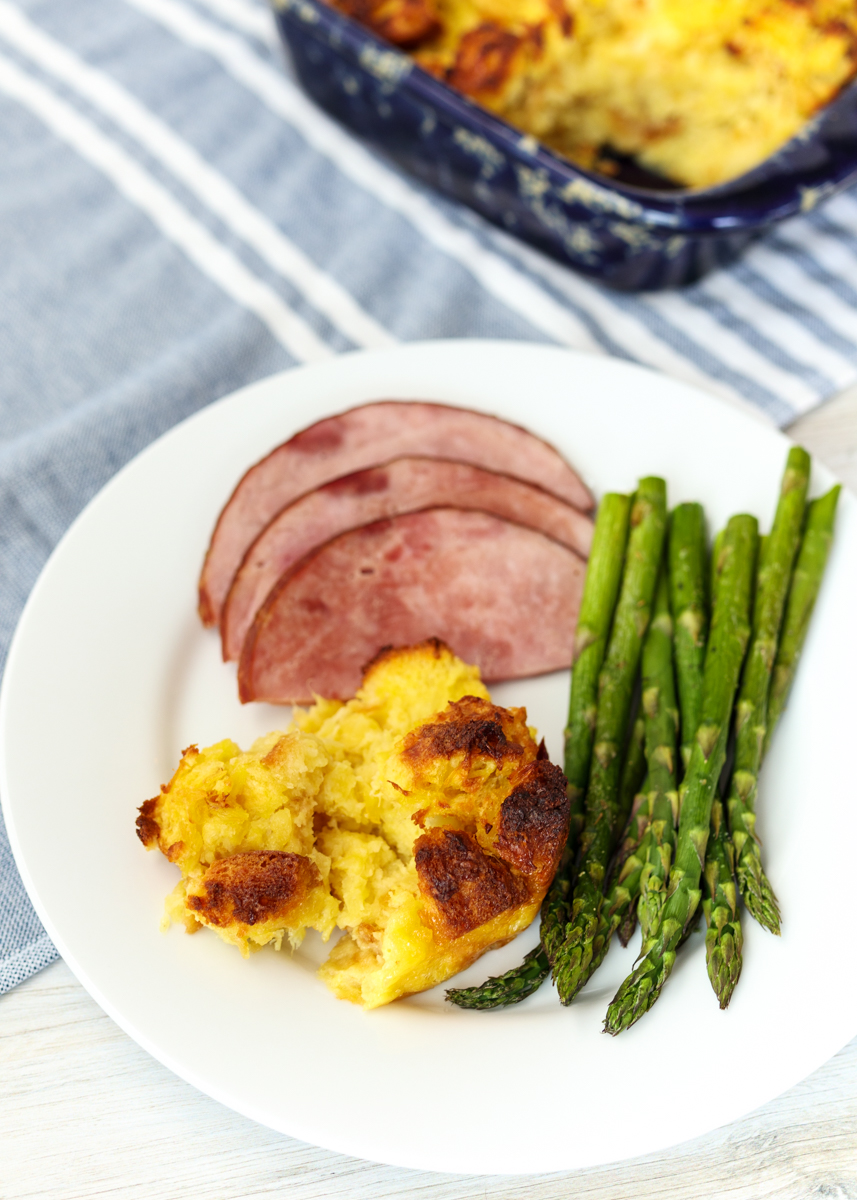 As a lover of sweetness, carbs and all things delicious this Pineapple Bread Pudding is right up my alley. I chose to use challah bread because there is a richness and subtle sweetness about challah bread that is a result of its higher egg and butter content, which stands up perfectly with the pineapple. My favorite part about making this recipe is that there's only five ingredients. Five! It can't get more simple or easy to make than that.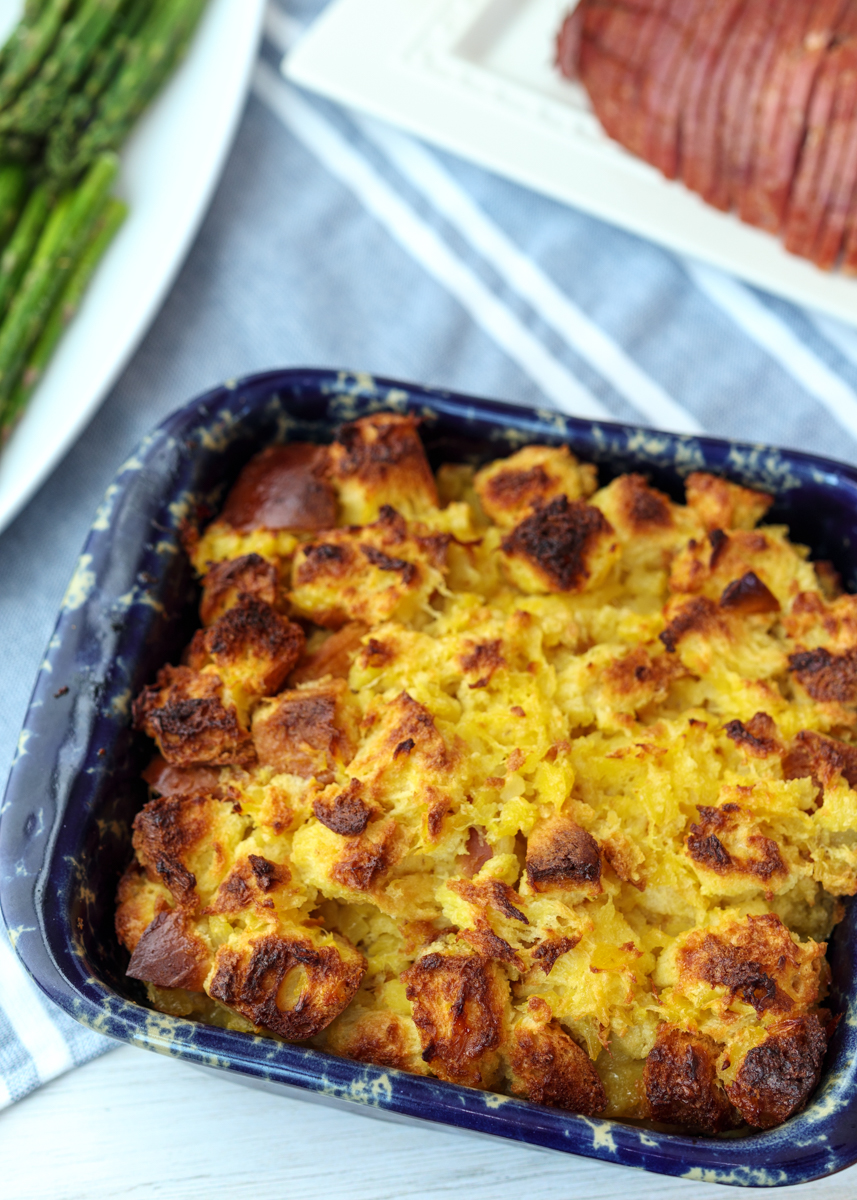 I am at a loss as to how else to describe this amazing dish because just thinking about this pineapple bread pudding is making my head cloudy with desire. So let's just get right to it.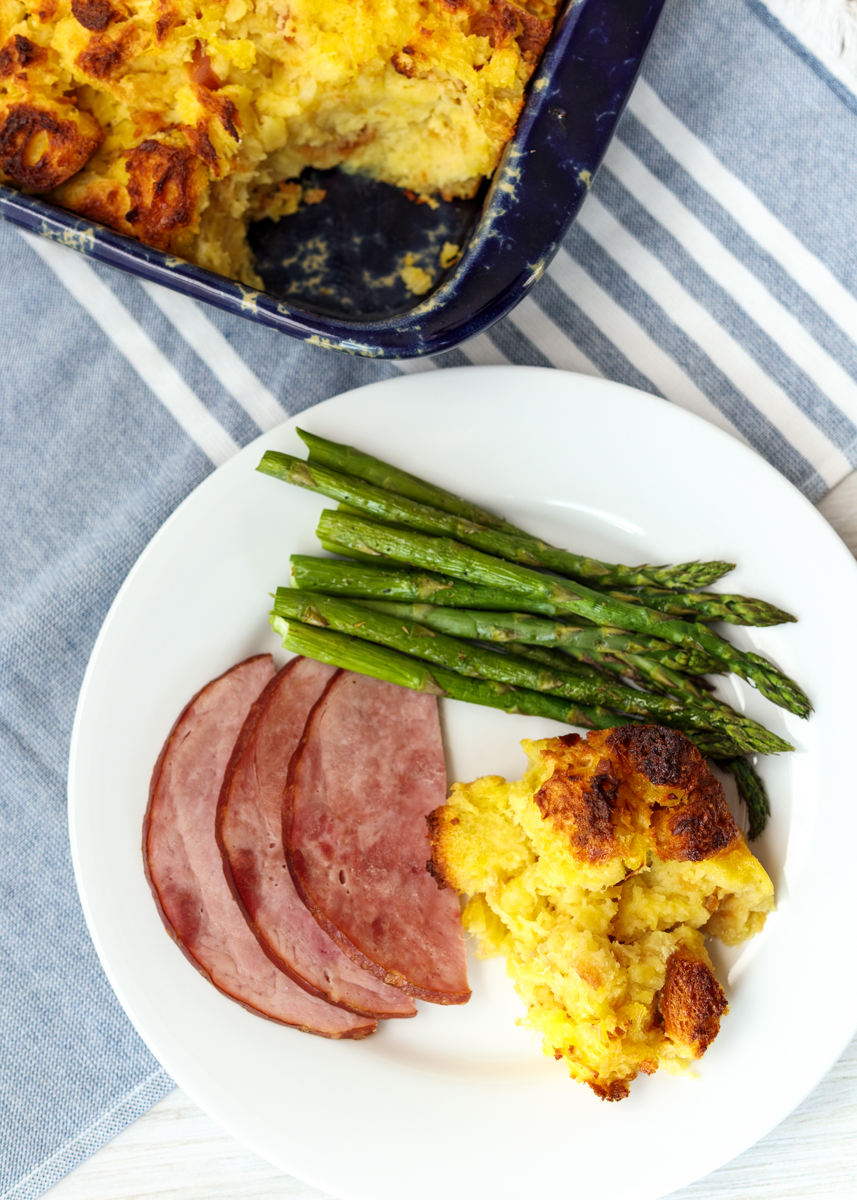 I could eat this Pineapple Bread Pudding every night of the week. I can't think of anything I would rather eat with baked ham. I think it also might be good as dessert with a scoop of vanilla ice cream. Go make this now.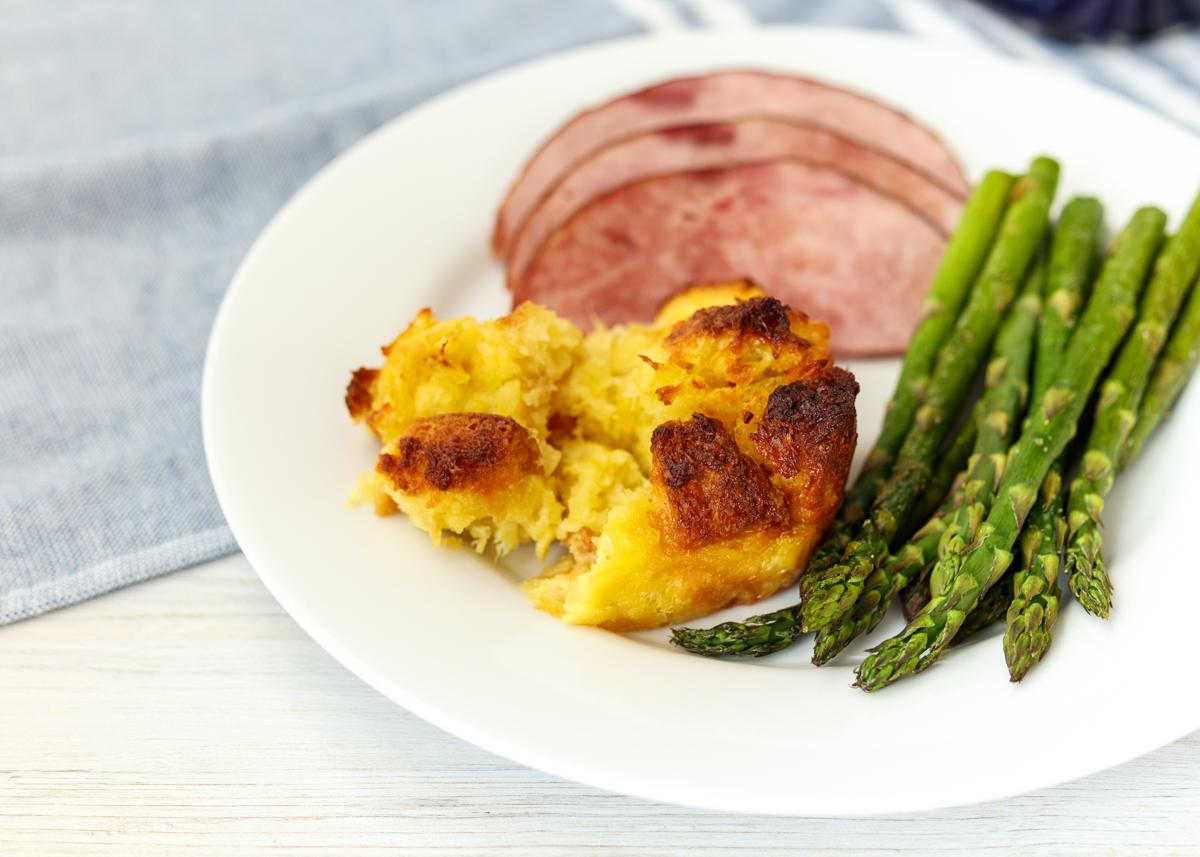 Pineapple Bread Pudding
Ingredients
½ loaf challah bread, about 5 thick slices
4 large eggs
1 20-ounce can crushed pineapple
½ cup butter, melted
¾ cup sugar
Directions
Cube the challah bread into 1" pieces. You should have enough pieces to fill a 9" x 9" baking dish. Place the bread in a large bowl and let sit uncovered for at least an hour. You want the bread to get a little stale so that it stays firm when you add the liquid.
Preheat the oven to 325 degrees F. Lightly spray a 2 quart baking dish and set aside.
In a large bowl, beat the eggs and then combine with the can of crushed pineapple, melted butter and sugar. Once combined carefully mix in the bread cubes until coated. Spoon the entire contents of the bowl into the prepared baking dish.
Bake for 1 hour or until golden brown.
Recipe slightly adapted from

All Recipes
.