Guacamole Tortilla Cups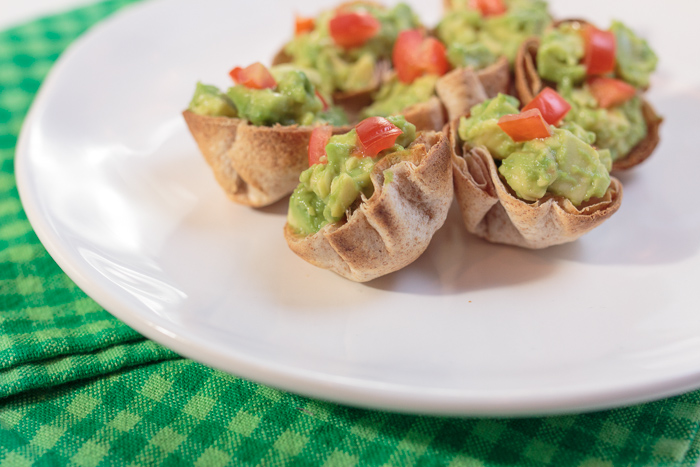 Shiver me shamrocks, it's almost St. Patrick's Day! A day devoted to drinks, green beer, cupcakes spiked with Bailey's and Irish accents? Now that's something I can get behind. Let's not forget that the ever classic "Luck of the Irish" will probably be playing on the Disney channel.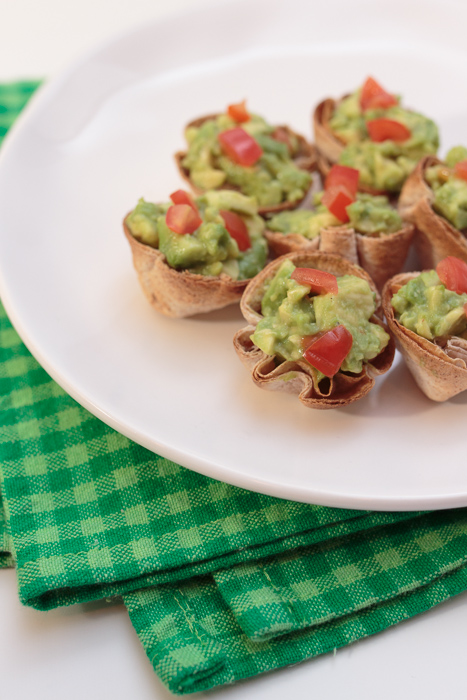 I wanted to make something that would be perfect for St. Patrick's Day, but was not too keen on cooking corned beef and cabbage. I decided to go with a green theme and came up with these cute, and delicious, guacamole tortilla cups. It's the ultimate chip and dip with no dipping required. The green color makes them a great snack for March 17th, but this little appetizer would be ideal for gameday munchies or summer cookouts.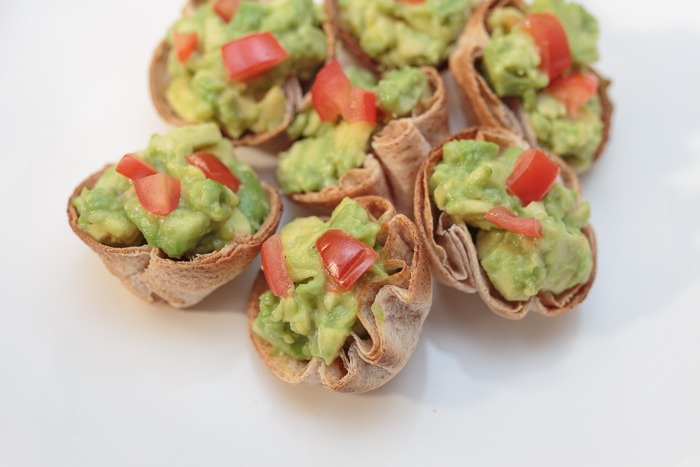 These little cups could not be easier. Simply cut rounds out of tortillas using a biscuit or round cookie cutter then press into the cups of a mini muffin pan. Bake until golden and voila! Edible cups at your service. I can't wait to test out more variations including filling them with salsa, seven layer dip, chicken salad, the list goes on! But for now I will happily chow down on this green guacamole version.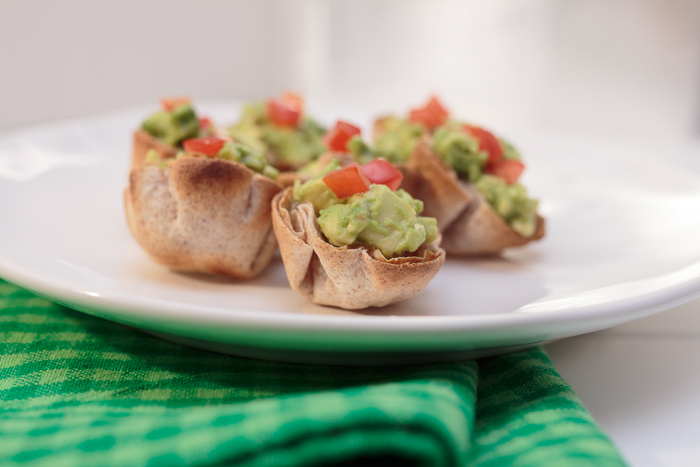 Guacamole Tortilla Cups
Ingredients
4-5 whole wheat flour tortillas
2 ripened avocados
¼ cup finely chopped red onion
Juice from 1 lime
½ teaspoon lemon juice
½ teaspoon salt
¼ teaspoon garlic powder
Pinch of chili powder (optional)
¼ cup diced grape tomatoes
Directions
Preheat the oven to 400 degrees F.
Use a 2-3" round cookie or biscuit cutter to cut rounds from the tortillas.
Press a tortilla round into a cup of a mini muffin pan. Repeat for the rest of the tortilla rounds.
Bake for 8-10 minutes or until the tortilla cups are lightly browned. Remove from the oven and let cool on a cooling rack.
Meanwhile, make the guacamole. Scoop the avocado out into a medium mixing bowl. Add the onion, lime juice, lemon juice, salt, garlic powder and chili powder. Using a sharp knife, cut through the avocado in the bowl until it is a small dice.
When the tortilla cups are cool, spoon a heaping teaspoon into each cup. Top with the diced tomatoes.
Notes
You will need 24 rounds of tortilla so you may need more of less tortillas depending on the size of your tortillas and the size of your cookie cutter.