Grilled Pineapple Guacamole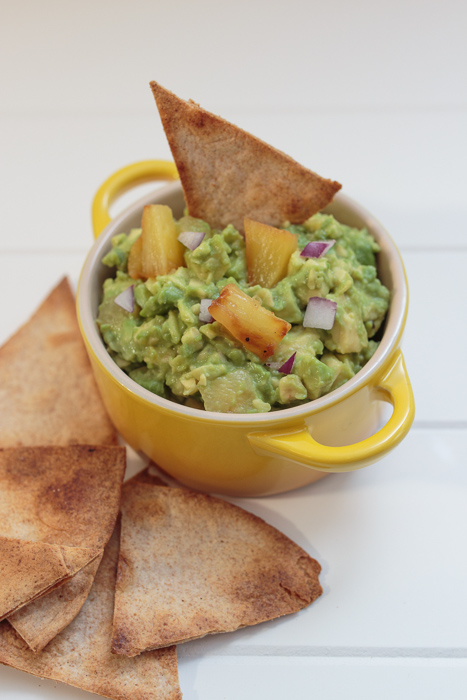 It's almost Super Bowl time! Get ready for over-the-top halftime performances, absurd commercials and mouthwatering bite-sized snacks. Oh, I mean, kickoffs, touchdowns and end zone victory dances! Rawr! Football! Sure, I loved getting up at unGodly hours on a Saturday morning to get in line half an hour before the gates opened at my college home football games. And there is something adrenaline pumping about cheering a team to victory in a roomful of people chanting for the same cause. But to call myself a football fan would be a wild stretch of the imagination, especially since I didn't understand any of the rules until my first college football game. Other than the whole cross the finish line or kick it through a goalpost to score points part.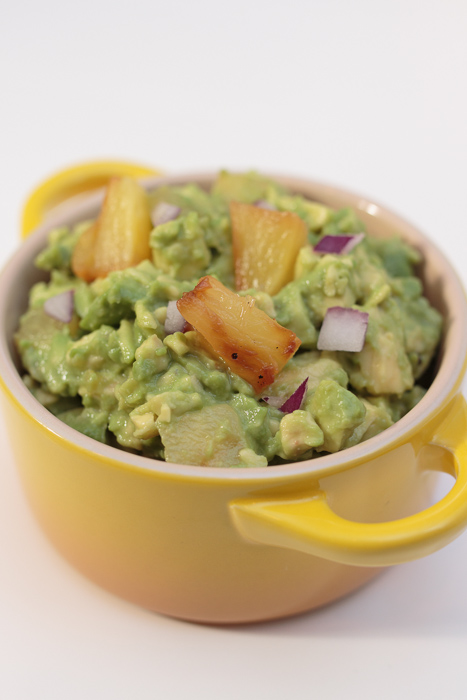 Don't worry, I get just as excited about the Super Bowl as the rest of you and even though some of you diehard footballs fans won't admit it, you're excited about the same part I am: the food. When you get through all the sticky wings, cheesy pizza and gooey potato skins you are left with the fundamentals of a victorious Super Bowl feast. The chips and dip. There are countless dips out there, but one of the most addictive ones in my house is guacamole. Creamy avocados, tangy lime juice, crunchy red onions and a slight kick. However this guacamole has something yours does not: sweet, smokey grilled pineapple chunks.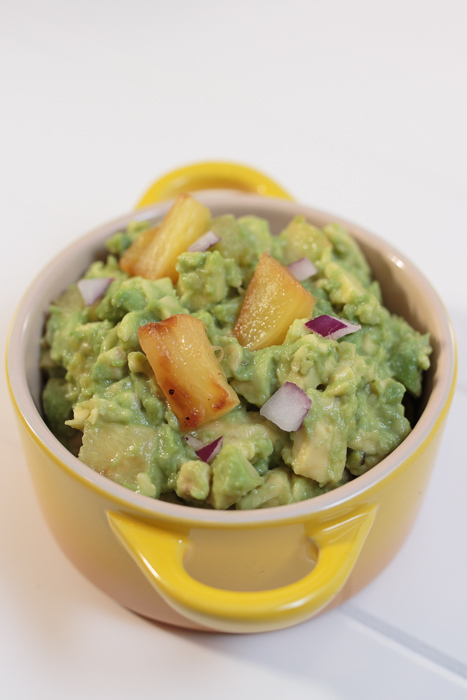 Adding some sweetness and extra acidity, the grilled pineapple chunks bring a unique flavor profile to your average guacamole. Guacamole is already amazing on it's own so imagine what this grilled pineapple guacamole will do to your tastebuds. Fireworks? Symphonies? Family members raising you to their shoulders and chanting your name? How about you try it and find out.

Grilled Pineapple Guacamole
Ingredients
2 sections of whole pineapple (see note), or 4 rings of pineapple
2 ripened avocados
¼ cup finely chopped red onion
Juice from 1 lime
½ teaspoon lemon juice
½ teaspoon salt
¼ teaspoon garlic powder
Pinch of ground chili powder (optional)
Salt and pepper
Directions
Heat a grill or grill pan to medium-high heat and lightly coat with cooking spray. Grill the pineapple 2-3 minutes per side, or until light grill marks appear. Once grilled, cut the pineapple into ½"- 1" chunks.
Meanwhile scoop the avocado out into a medium mixing bowl. Add the onion, lime juice, lemon juice, salt, garlic powder and chili powder. Using a sharp knife, cut through the avocado in the bowl until it is a small dice.
Use a spoon to make sure all the ingredients are combined, add the grilled pineapple chunks and stir once more until just combined. If you like your guacamole more smooth than chunky then mash the avocados more.
Serve fresh with chips.
Notes
If using fresh pineapple follow these instructions:
1. Cut off the top and bottom of the pineapple.
2. Sitting the pineapple upright, cut it in half, then into quarters.
3. Standing each quarter upright, cut it in half to make 2 wedges.
4. Standing each wedge upright, cut the point off down the entire length of each wedge to remove the thick core, about ½" - ¾" into the pineapple.
5. Still standing each wedge upright, cut the skin off each wedge.