French Onion Green Beans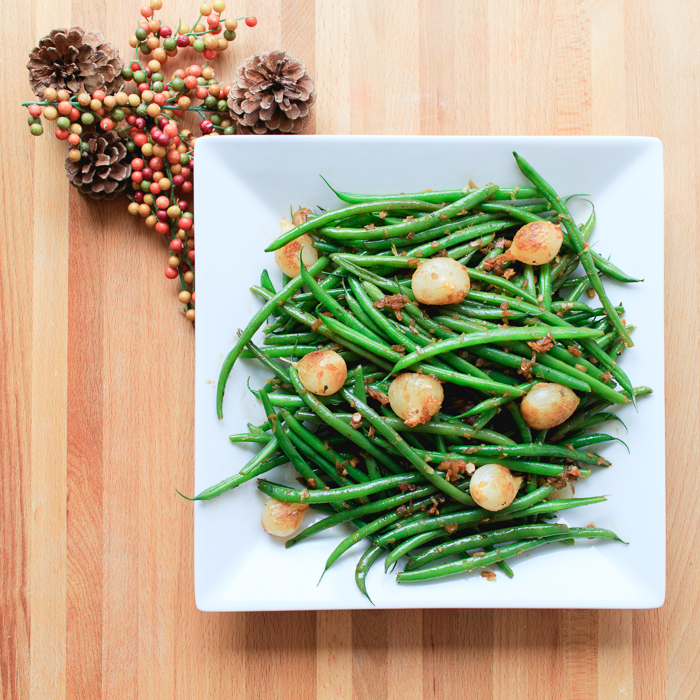 Can you believe Thanksgiving is next week? It seems like I was just saying I couldn't believe it was already November! I won't be cooking for Thanksgiving, but I'm going to be posting Thanksgiving recipes for the next few posts for all of you who will be cooking this year. Although great as a Thanksgiving or winter holiday side dish, these French onion green beans are also easy enough for any day of the week this winter.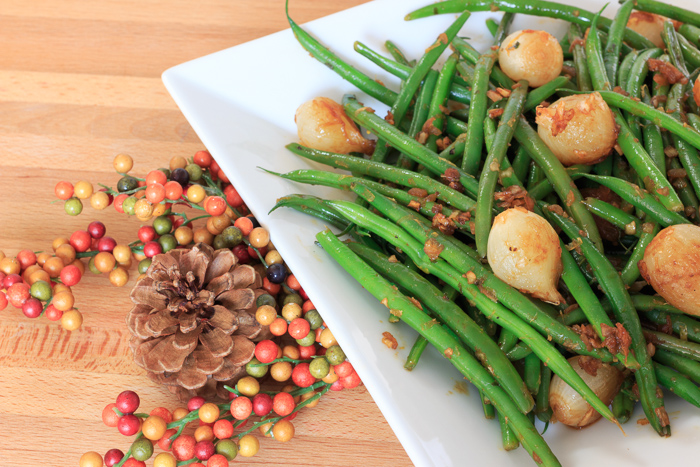 When I think about Thanksgiving, not only do savory side dishes and plates piled high with pie slices come to mind, but also post-turkey food comas and stomach aches. Between the mashed potatoes and gravy, sausage stuffing, sweet potato casserole and macaroni and cheese, there are many heavy side dishes that end up on the Thanksgiving table. I made these green beans as a light addition to your table that also won't take up space in your oven. They have all the flavor of a green bean casserole without any of the creamed soup, milk or fried onions.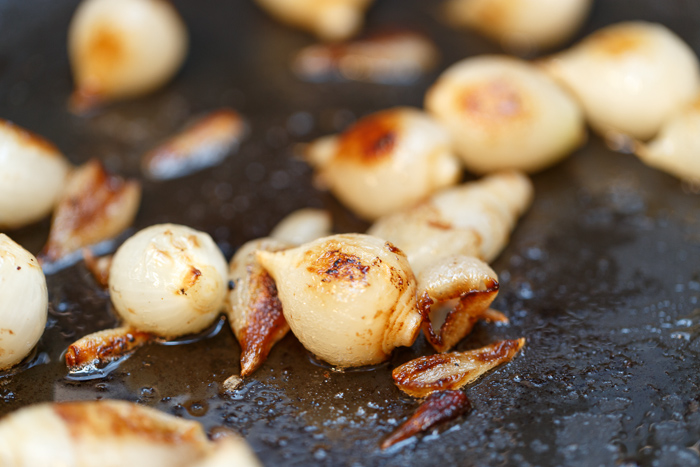 The original recipe called for a Lipton Onion mix packet, but I found a copycat recipe to use since I like to know exactly what ingredients I'm putting in my food (and can avoid unnecessary "ingredients" like caramel color and partially hydrogenated soybean oil). Everyone will be gobbling up their vegetables this holiday with these green beans on the menu. Enjoy!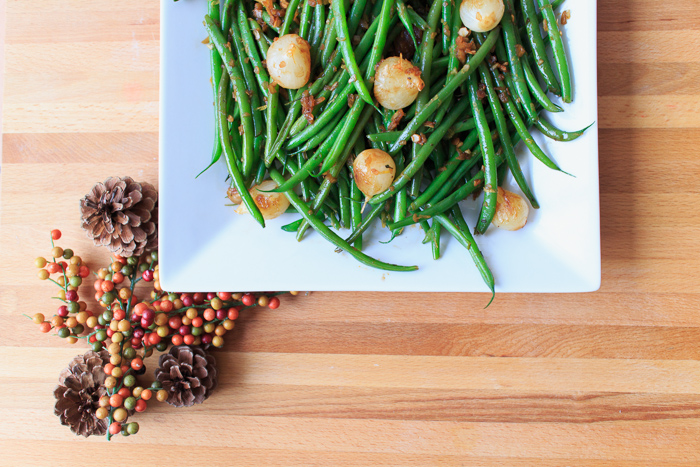 French Onion Green Beans
Ingredients
2 tablespoons unsalted butter
2 cups pearl onions
1½ pound haircots verts
1 tablespoon minced garlic
1 tablespoon Worcestershire sauce
¼ cup minced dried onion
2 tablespoons low sodium beef bouillon powder
1 teaspoon onion powder
Pinch of celery seed
Pinch of sugar
½ cup white wine
1 tablespoon lemon juice
Zest from 1 lemon
Pepper to taste
Directions
Melt the butter over medium heat in a large sauté pan. Add the pearl onions, cover the pan and cook for 15 minutes, stirring occasionally.
Meanwhile, boil some water, add salt and cook haircots verts for 3 minutes. Drain and immediately place the greens into ice water until cool. Drain the greens.
Add the garlic, Worcestershire and spices to the onions then stir.
Add the wine and scrape up any brown bits from the bottom of the pan. Add the haircots verts and cook for 4 minutes. Stir in lemon juice, zest and season with pepper.
Notes
Make sure you use the low sodium beef bouillon powder or the dish will be too salty.
Recipe adapted from November/December 2013 issue of 

Cuisine at Home

 and 

Food.com

.