Ultimate Oreo Cupcakes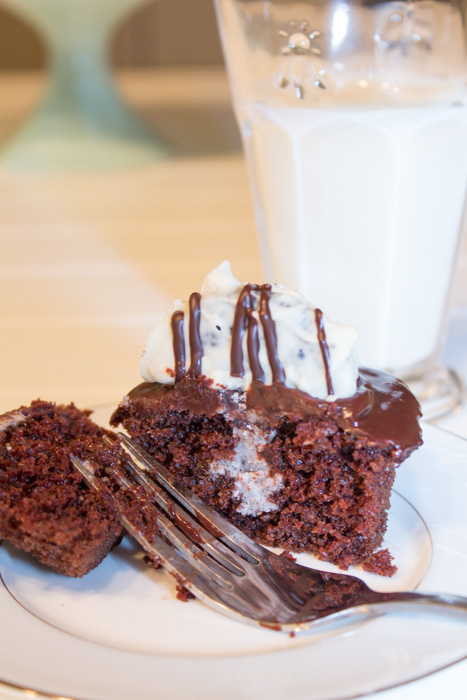 15 Oreo cookies
2 sticks unsalted butter, room temperature
6 cups powdered sugar
½ cup milk
1 teaspoon vanilla extract
1 cup white chocolate chips
1 tablespoon vegetable oil
12 Oreo cookies
⅓ cup semi-sweet chocolate chips
Chop the Oreo cookies in a food processor until they are fine crumbs, or crush in a thick plastic baggie with a heavy object.
Whip the butter for 2-3 minutes, or until smooth, with an electric mixer.
On low speed carefully add the sugar, milk and vanilla and mix until fluffy. If the frosting looks too thin slowly add some more powdered sugar. Add the Oreo crumbs and mix until well combined.
Fit a pastry bag with the Wilton Bismarck tip #230. Fill the pastry bag with the filling. Insert the tip halfway into the center of the cupcake and squeeze in some filling. Slowly start pulling out the tip while still squeezing. Remove and stop squeezing in some filling when the top of the cupcake starts to bulge and is just about to crack. Place in the fridge to chill.
Cover a plate or cutting board that will fit in your fridge with wax paper and set aside.
Melt the white chocolate chips over a double boiler over medium-low heat. When completely melted stir in the vegetable oil then remove from the heat.
Carefully submerge an Oreo so that it's completely coated in white chocolate before resting it on the wax paper. I used a spoon and a fork to complete this task. Repeat for the rest of the Oreos.
Place the Oreos in the fridge until the chocolate has set.
When the chocolate is almost set melt the semi-sweet chocolate chips using the double boiler. Set aside to cool slightly. Remove the Oreos from the fridge and place near your workstation.
Pour the melted semi-sweet chocolate into a pastry bag fitting with a skinny round tip or a plastic baggie with a very small corner snipped off. Pour zigzag lines over the Oreos then return to the fridge to set.
Once the Oreos have set carefully cut in half with a sharp knife.
Once the cupcakes have been filled and chilled it's time to top them with the chocolate ganache. If the ganache isn't already warm carefully heat it in a double boiler or in the microwave on low heat.
Carefully dip the top of each cupcake in the warm chocolate ganache, letting the excess drip off. After dipping the cupcakes carefully press a chocolate-covered Oreo half into the center of each cupcake before the ganache has time to completely harden. You may have to slightly insert the Oreo into the cupcake so that it stays upright.
Return to the fridge to let the chocolate ganache set. Serve chilled or at room temperature.