Dark Chocolate Pecan Bars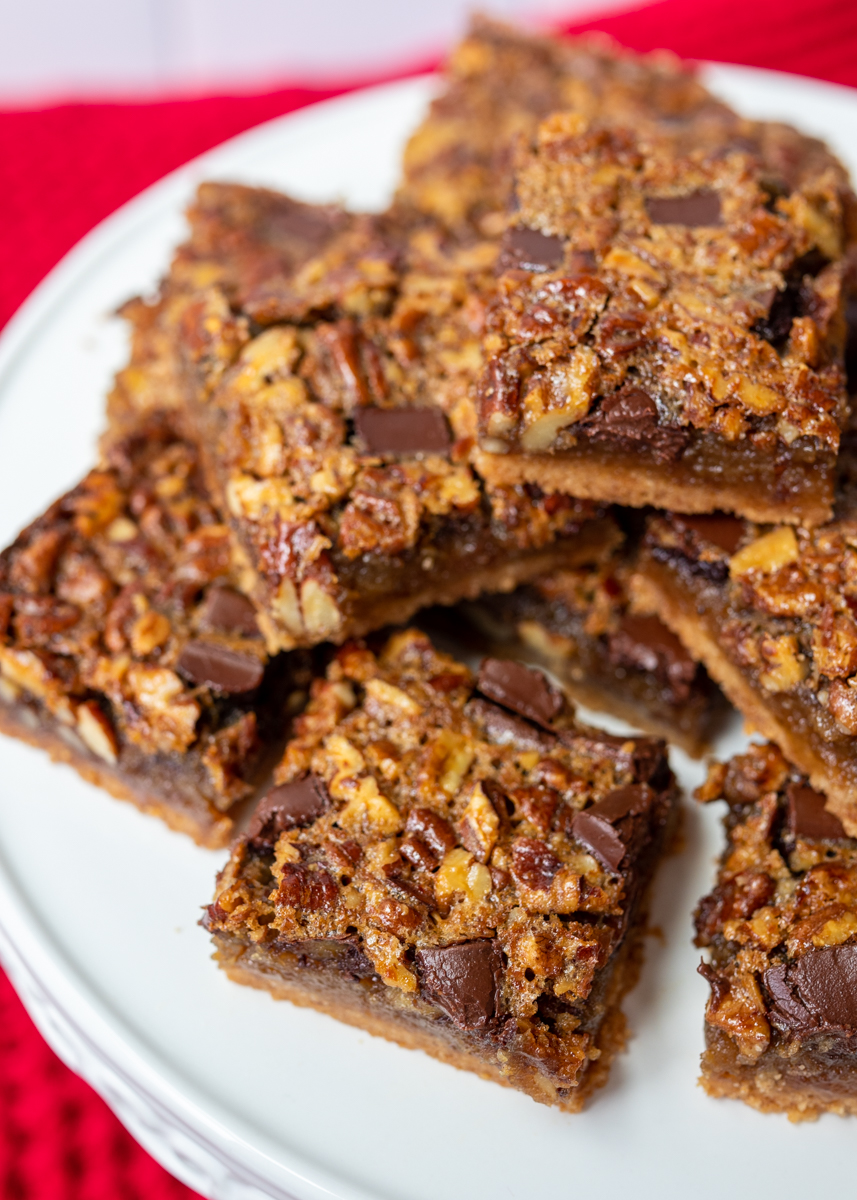 ⅓ cup pecans
2 cups all-purpose flour
½ cup granulated sugar
½ teaspoon salt
12 tablespoons cold unsalted butter (1½ sticks), cut into cubes
¾ cup dark corn syrup
½ cup granulated sugar
½ cup brown sugar
4 large eggs
4 tablespoons unsalted butter, melted
2 teaspoons vanilla extract
⅛ teaspoon salt
1½ cups pecans, roughly chopped
½ cup semisweet chocolate chunks
Preheat the oven to 350 degrees F. Line a 9x13" baking pan with aluminum foil, being sure to leave a 2-inch overhang on 2 sides. If not using nonstick aluminum foil, coat the foil with cooking spray. Set aside.
In a food processor, pulse the pecans until they are finely ground. Add the flour, sugar and salt. Pulse to combine. Add the cold butter cubes and pulse until the dough starts to clump together. The dough will still be crumbly and sand-like. Pour the pecan mixture into the prepared baking sheet and use your fingers to press down into an even layer. Bake for 25-30 minutes, or until golden brown and set.
While the crust is baking, make the filling. In a large mixing bowl, whisk together the corn syrup, granulated sugar, brown sugar, eggs, melted butter, vanilla and salt. Once smooth, stir in the pecans. Pour the filling over the warm crust as soon as it's out of the oven. Sprinkle the chocolate chunks over top. Return to the oven and bake for 25-30 minutes, or until the top is set and doesn't jiggle if you wiggle the pan. Place the baking pan on a wire cooling rack and let the bars cool completely in the pan. Once cool, remove from the pan and cut into squares.
Recipe by
Lemon & Mocha
at http://www.lemonandmocha.com/2019/11/25/dark-chocolate-pecan-bars/