Apple Spice Mini Cupcakes with Maple Brown Sugar Buttercream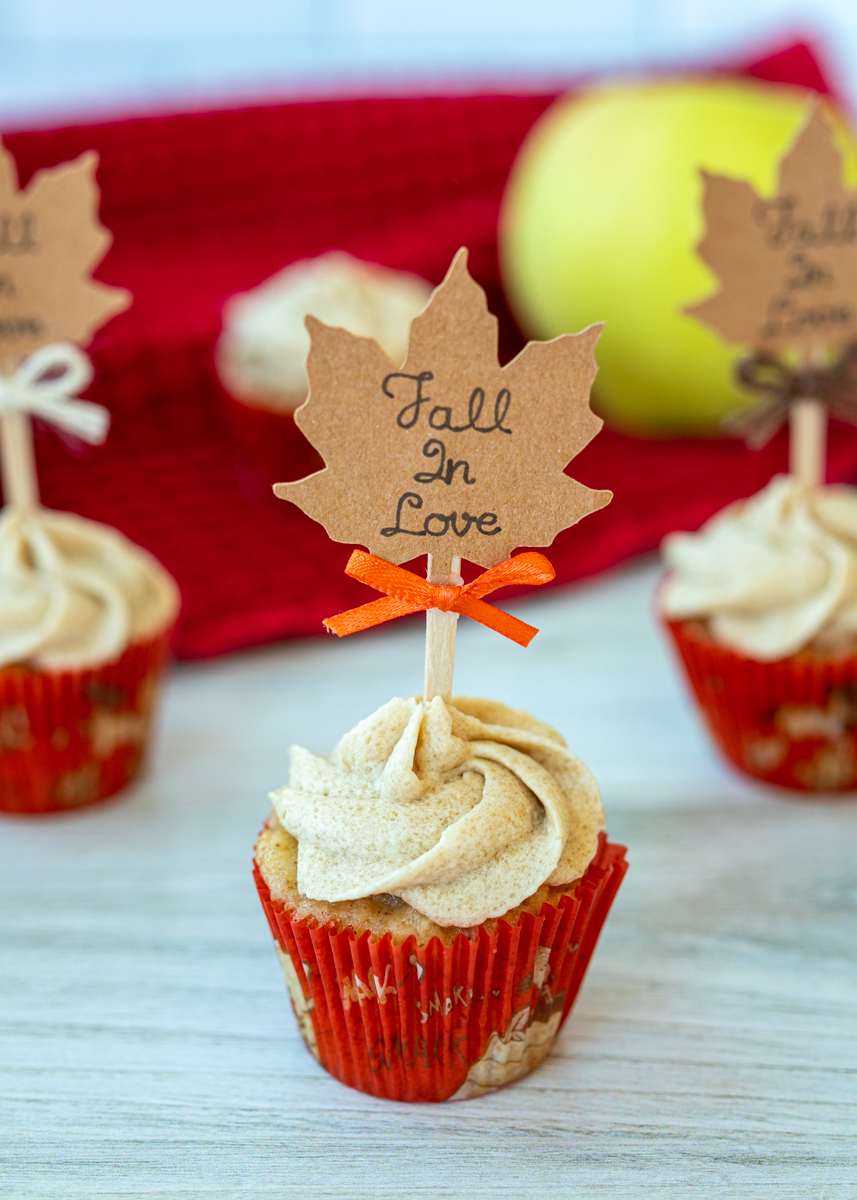 2½ cups all-purpose flour
2 teaspoons baking powder
1 teaspoon salt
1 teaspoon ground cinnamon
½ teaspoon ground ginger
¼ teaspoon nutmeg
8 tablespoons unsalted butter (1 stick), room temperature
2 cups granulated sugar
1 teaspoon vanilla extract
2 large eggs, room temperature
¾ cup buttermilk (see note)
3 cups peeled, shredded and strained gala apples, about 3-4 medium apples
2¼ cups confectioners' sugar
½ cup brown sugar
8 tablespoons unsalted butter (1 stick), room temperature
1 teaspoon salt
½ cup real maple syrup
1 teaspoon vanilla extract
Preheat the oven to 350 degrees F. Line a 24 cup mini muffin pan with mini cupcake liners. Set aside.
In a medium bowl, whisk together the flour, baking powder, salt, cinnamon, ginger and nutmeg. Set aside.
In a large bowl with a hand mixer or in the bowl of a stand mixer, beat the butter with a paddle attachment on medium-high speed for 2 minutes. Add the sugar and vanilla extract. Beat on medium-high for 2 minutes, scrapping down the sides as needed. Add the eggs, 1 at a time, beating for 1 minute after each addition. Add the buttermilk and beat on low until combined. Add the flour mixture and beat on low until a few streaks remain. Use a rubber spatula to fold in the shredded apple, making sure you've strained the water out and squeezed the apple shreds dry with a paper towel or cheesecloth.
Use half the batter to fill the 24 prepared mini cupcake liners. Bake for 15 minutes, or until a toothpick inserted in the center comes out with just a few moist crumbs and the tops spring back when lightly pressed. Let cool for a couple minutes in the pan then carefully move the mini cupcakes to a wire cooling rack to cool completely. Add 24 more cupcake liners to the pan and repeat with the rest of the batter.
In a large bowl with a hand mixer or in the bowl of a stand mixer, beat the confectioners' sugar, brown sugar, butter and salt, first on low then on medium until fluffy. Add the maple syrup and vanilla then beat on medium-high until combined. Frost the cooled cupcakes. If piping on the frosting, use a Wilton 1M tip to pipe small star swirls onto each mini cupcake.
To make your own buttermilk: pour 1 tablespoon of lemon juice or vinegar in a liquid measuring cup. Pour milk, any fat percentage, into the measuring cup until you have ¾ of a cup. Let sit 5 minutes before using.
Recipe by
Lemon & Mocha
at http://www.lemonandmocha.com/2019/10/18/apple-spice-mini-cupcakes-with-maple-brown-sugar-buttercream/