Southwestern Sweet Potato Noodles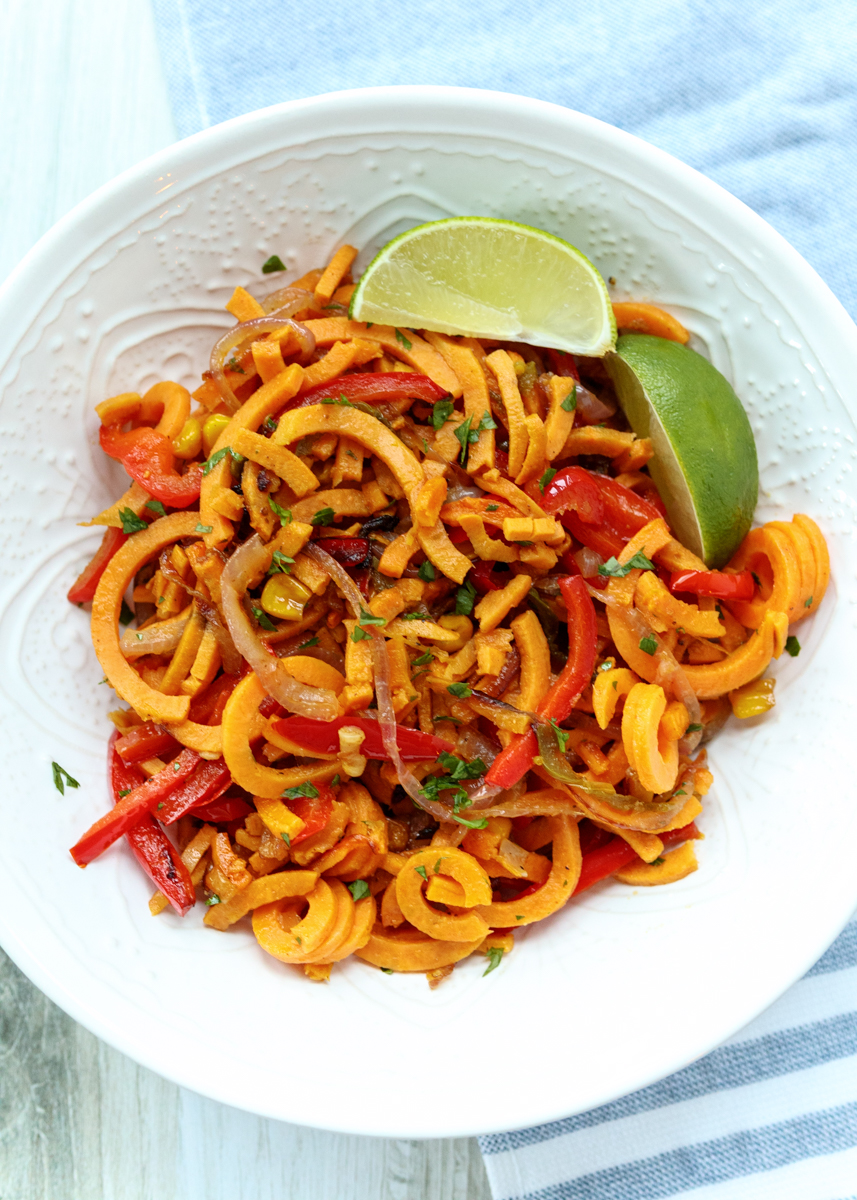 3 tablespoons olive oil, divided
3 small sweet potatoes (about 1¼ pounds), peeled
½ cup frozen corn
1 small red onion, halved and thinly sliced
1 red bell pepper, stem removed and thinly sliced
1 jalapeño, thinly sliced into rounds (see note)
3 cloves garlic, minced
¾ teaspoon ground cumin
Up to ¾ teaspoon chili powder, depending on preference
½ teaspoon ground coriander
½ cup fresh cilantro, roughly chopped
Juice of 1 lime, plus wedges for serving
Heat 2 tablespoons of the olive oil over medium-high heat in a large nonstick skillet. Add the sweet potato noodles, season with salt and pepper and cook until tender, about 5-7 minutes, stirring occasionally. Remove from the pan.
Add the frozen corn to the pan and let get slightly charred, stirring occasionally. Add the remaining tablespoon of olive oil (plus more if needed), the red onion, bell pepper and the jalapeño. Season with salt and pepper. Cook until slightly charred then add the garlic, cumin, chili powder and ground coriander. Cook for 1 minute then add the sweet potato noodles back to the pan. Cook until warm then remove from the heat. Add the cilantro and lime juice. Toss, season with salt and pepper and serve with the lime wedges.
If you don't like spicy food, slice the jalapeño in half, remove seeds and pith, then thinly slice into half rounds.
Recipe by
Lemon & Mocha
at http://www.lemonandmocha.com/2019/10/14/southwestern-sweet-potato-noodles/