Lemon Herb Risotto with Salmon and Crispy Panko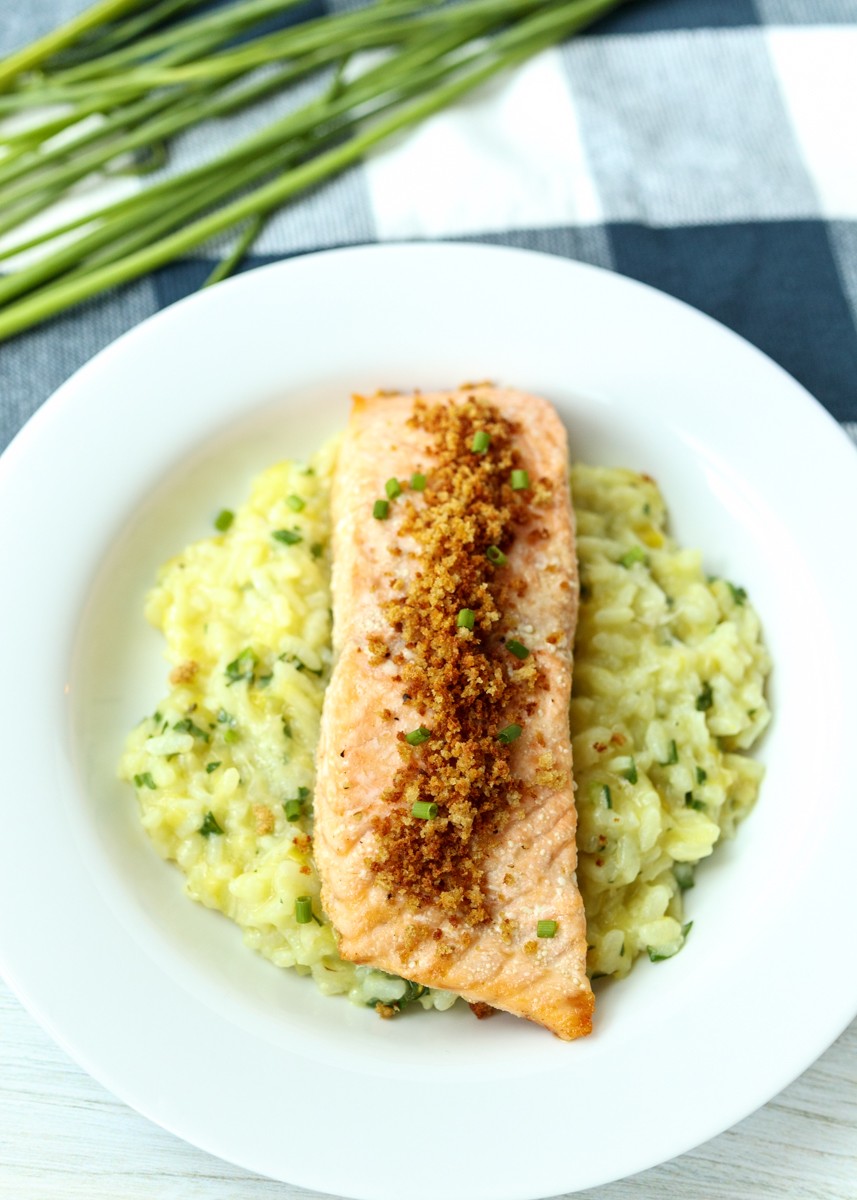 3 cups low sodium chicken broth
3 tablespoons unsalted butter, divided
1 tablespoon olive oil
1 small leek, halved lengthwise, thinly sliced and rinsed
¾ cup arborio rice
⅓ cup dry white wine
⅓ cup fresh grated Parmesan
Zest of 1 lemon
Juice of ½ lemon
¼ cup chopped parsley
2 tablespoons chopped chives
2 4-ounce salmon filets (preferably skin off, but if not just remove after baking)
3 tablespoons olive oil
Salt and pepper
2 tablespoons panko bread crumbs
¼ teaspoon olive oil
Heat the chicken broth in a saucepan then keep warm over low heat.
In a medium saucepan, heat 1 tablespoon of the butter and the tablespoon of olive oil over medium heat. Add the leek then season with salt. Cook for 5 minutes, stirring occasionally.
Add the rice, season with salt. Cook for 1 minute, while stirring, until the rice is coated. Add the wine and cook while stirring until absorbed, about 1 minute.
Add ½ cup of the warm chicken broth. Cook until absorbed, stirring frequently. Continue this process in ½ cup increments of the chicken broth until you've used it all up. This takes about 18 minutes. Remove the risotto from the heat and add the remaining 2 tablespoons of butter, Parmesan, lemon zest, lemon juice, parsley and chives. Season with salt to taste.
Preheat oven to 350 degrees F. Line a baking sheet with nonstick aluminum foil or spray with cooking spray. Place the salmon filets on the baking sheet then drizzle with the olive oil. Season with salt and pepper. Bake for 18-20 minutes or until cooked and it easily flakes when you touch it with a fork. Serve over the risotto with the panko sprinkled on top.
Add the panko to a small sauté pan over medium heat. Drizzle with the olive oil. Sauté, stirring frequently, until the panko is lightly browned, about 5 minutes.
Recipe by
Lemon & Mocha
at http://www.lemonandmocha.com/2019/10/09/lemon-herb-risotto-with-salmon-and-crispy-panko/