Carrot Cake Nest Cookies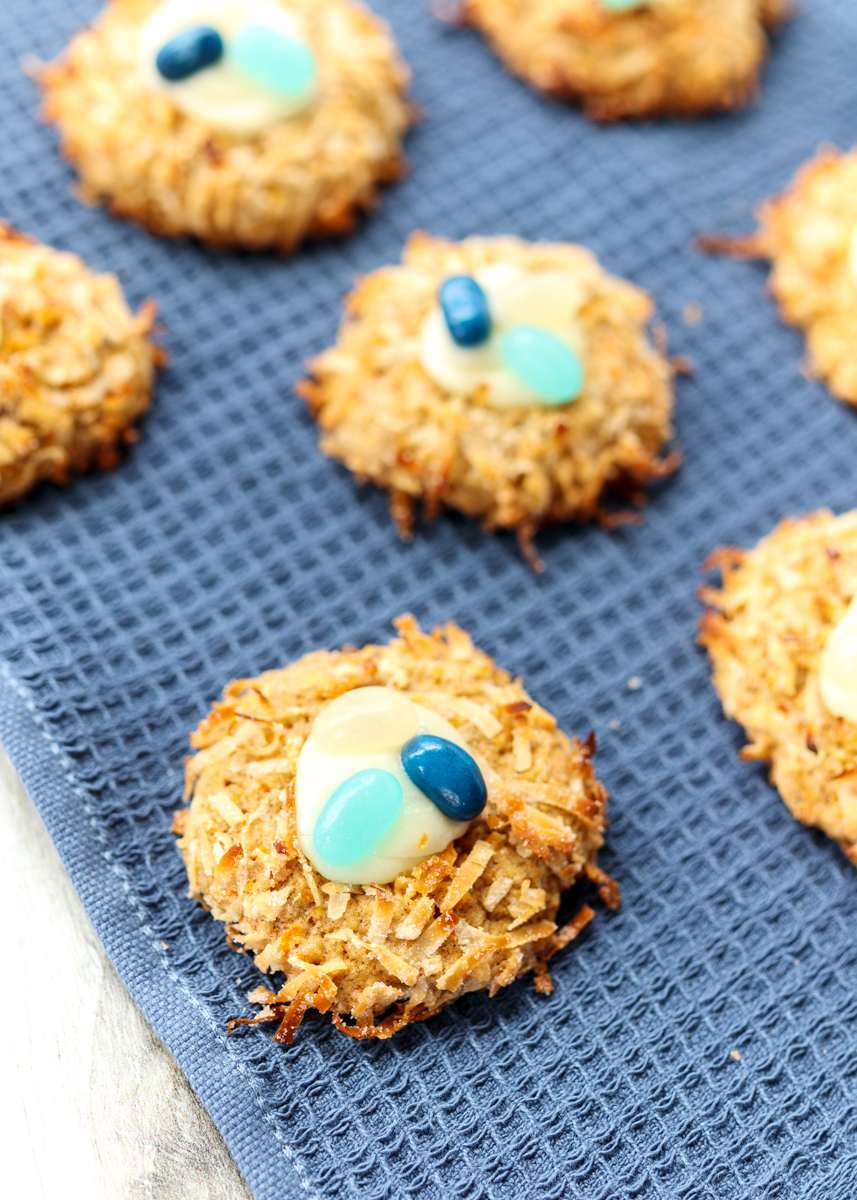 1⅓ cups all-purpose flour
1½ teaspoons ground cinnamon
½ teaspoon ground ginger
Pinch of ground cloves
¼ teaspoon salt
8 tablespoons unsalted butter (1 stick), at room temperature
⅓ cup granulated sugar
⅓ cup dark brown sugar
1 large egg yolk, at room temperature
2 teaspoons vanilla extract
¾ cup finely grated carrots (about 2 carrots)
¼ cup finely chopped toasted walnuts
1¾ cups shredded sweetened coconut
2 ounces cream cheese, at room temperature
2 tablespoons unsalted butter, at room temperature
⅛ teaspoon vanilla extract
½ cup powdered sugar
Blue and white jelly beans, for topping
Place oven racks in the upper and lower thirds. Preheat oven to 350 degrees F. Line 2 baking sheets with parchment paper and set aside.
In a medium bowl, whisk together the flour, cinnamon, ginger, cloves and salt. In the bowl of a stand mixer or in a large bowl with a hand mixer, beat the butter, granulated sugar and brown sugar on medium-high until fluffy, about 3 minutes. Add the egg yolk and the vanilla then beat again until well combined. Add the carrots and walnuts then beat again. Slowly add the flour mixture while on low speed and beat until just combined.
Scoop tablespoons of dough then roll the balls into the shredded coconut. I used my medium Oxo cookie scoop. Place 1-inch apart on the prepared baking sheets. Use the handle of a wooden spoon or something round similar in size to make a deep indentation into the centers of the cookies. Bake the cookies, switching the baking pans halfway through from top to bottom, for 22-24 minutes, or until the cookies are set and the coconut is golden brown. Let cool completely on the pans placed on wire cooling racks.
In the bowl of a stand mixer or in a medium bowl with a hand mixer, beat the cream cheese, butter and vanilla with the whisk attachment until light and fluffy. Add the powdered sugar and beat until fluffy. Transfer to a resealable plastic bag with the corner snipped or a pastry bag fitting with a round tip. If you aren't ready to use right away, keep refrigerated. Pipe the frosting into the indentation if each cooled cookie then top each cookie with 3 jelly beans.