Brownie Fudge Sundae Ice Cream Pie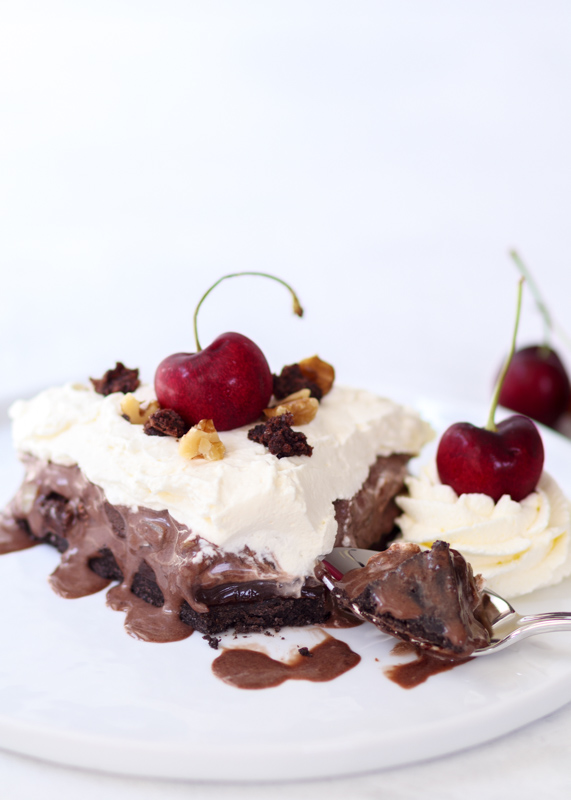 24 Oreo cookies
5 tablespoons melted unsalted butter
1 tablespoon sugar
¼ teaspoon salt
1 cup hot fudge
1 batch chocolate brownie walnut ice cream
1 cup heavy cream
2 tablespoons sugar
Cherries, for topping
Line a pie dish or a springform pan with plastic wrap. Make sure plastic wrap is hanging over the sides. When the pie is done you will want to remove it from the pan so you can get a clean cut. If you don't care about getting a clean cut, you can make the pie directly in the pie dish without any plastic wrap, but it will be hard to get out the first piece or two.
Crush the Oreo cookies (filling and all) in a food processor or in a plastic bag with a rolling pin until they resemble fine crumbs. Add the melted butter, sugar and salt then pulse in the food processor until combined or stir together until combined in a mixing bowl. Press the cookie crumb mixture into the bottom of the prepared pie dish and chill in the refrigerator for at least 1 hour.
Heat the hot fudge if it's not pourable. Pour the hot fudge into the bottom of the chilled Oreo crust and put in the freezer until chilled.
If you are using homemade ice cream, you can pour the ice cream straight from the ice cream machine into the chilled hot fudge Oreo crust. If you are using semi-homemade ice cream (see note), pour the softened ice cream with the walnuts and brownie pieces mixed in right into the chilled hot fudge Oreo crust. Lightly cover and freeze until firm, about 6-8 hours.
Place the metal stand mixer bowl or a metal mixing bowl and the metal beater of your stand mixer or the metal beaters of your hand mixer in the freezer to chill for at least 15 minutes. Pour the cold heavy cream and the sugar into the chilled bowl then beat until you see stiff peaks form. Spread the whipped cream over the top of the ice cream pie. Top with the cherries before serving.
The pie will be best if you add the fresh whipped cream right before serving. Fresh whipped cream will also be okay in the fridge for a few hours so you could make the whipped cream and keep it in the fridge until you are ready to top and serve the pie. If you do freeze the pie with the whipped cream (we did this with the leftover pie) it will still be good, but it won't be a light whipped cream topping; it will be frozen.
If you would prefer to use store-bought whipped topping, you will need 2 cups.
Recipe by
Lemon & Mocha
at http://www.lemonandmocha.com/2018/07/27/hot-fudge-brownie-sundae-ice-cream-pie/