4th of July Tie-Dye White Texas Sheet Cake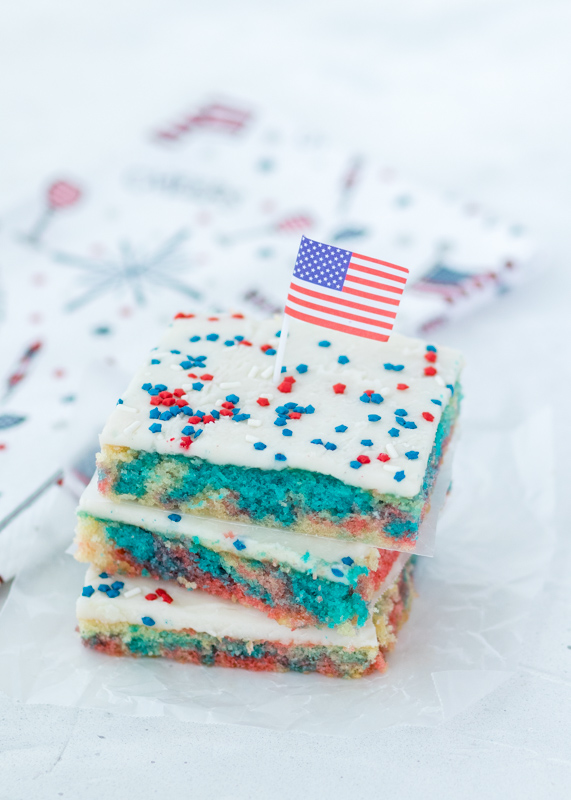 2 cups flour
2 cups sugar
1 teaspoon baking soda
2 large eggs, beaten
½ cup yogurt, see note
1 teaspoon vanilla extract
1 cup unsalted butter
1 cup buttermilk
½ teaspoon salt
Red and blue food coloring
4½ cups powdered sugar
¼ teaspoon salt
½ cup unsalted butter
¼ cup milk
½ teaspoon vanilla extract
Preheat the oven to 375 degrees F. Grease a half sheet pan, 13" x 18". Set aside.
In a large bowl, sift together the flour, sugar and baking soda. Add the beaten eggs, yogurt and vanilla then stir until just combined.
In a small saucepan, melt the 2 sticks of butter over medium heat. Add the buttermilk and salt. Bring to boil, removing from the heat as soon as it starts to boil. Let cool slightly then pour into the flour mixture. Stir until just combined and smooth.
Pour ⅓ of the batter in a bowl, ⅓ of the batter in a second bowl and leave the remaining ⅓ in the original bowl. Use food coloring to dye the batter in one bowl red and the other bowl blue. Leave the third one as is. Pour the batter you didn't dye into the prepared sheet pan. Smooth into an even layer. Pour the blue batter over the white batter. I zigzagged back and forth. Repeat with the red batter. Using a butter knife, lightly swirl the batters around. Don't over-mix or they will be one color instead of tie-dye.
Bake for 20-22 minutes, or until a toothpick inserted in the center comes out clean. Let cool in the pan on a wire cooling rack for 20 minutes. Meanwhile, while the cake is cooling make the frosting (the frosting needs to be added when the cake is still a little warm).
Sift the powdered sugar into a medium mixing bowl then mix in the salt.
Melt the butter in a small saucepan over medium heat. Once melted, add the milk and bring to a boil, removing from the heat as soon as it starts to boil. Stir in the vanilla extract. Pour the butter mixture into the bowl with the powdered sugar. Stir until smooth. If it's too thick, add a little more milk. Pour over the cake as soon as it has cooled for 20 minutes and spread in an even layer. Try to do this quickly as the frosting will start to set as soon as you start spreading it.
You can use any plain yogurt. Vanilla might also be okay, but I haven't tried it with that. I used nonfat plain Greek yogurt. If you do not want to use yogurt you could also substitute sour cream.
To make your own buttermilk pour 1 tablespoon of lemon juice or vinegar (I like to use lemon juice) in a liquid measuring cup then add enough milk to equal 1 cup. The fat percentage of the milk does not matter - I use nonfat milk. Let sit for 5-10 minutes before using in the recipe.
The fat percentage of the milk in the frosting does not matter. I used nonfat milk.
Recipe by
Lemon & Mocha
at http://www.lemonandmocha.com/2018/06/25/4th-of-july-tie-dye-white-texas-sheet-cake/