Strawberry Rhubarb Crumble Muffins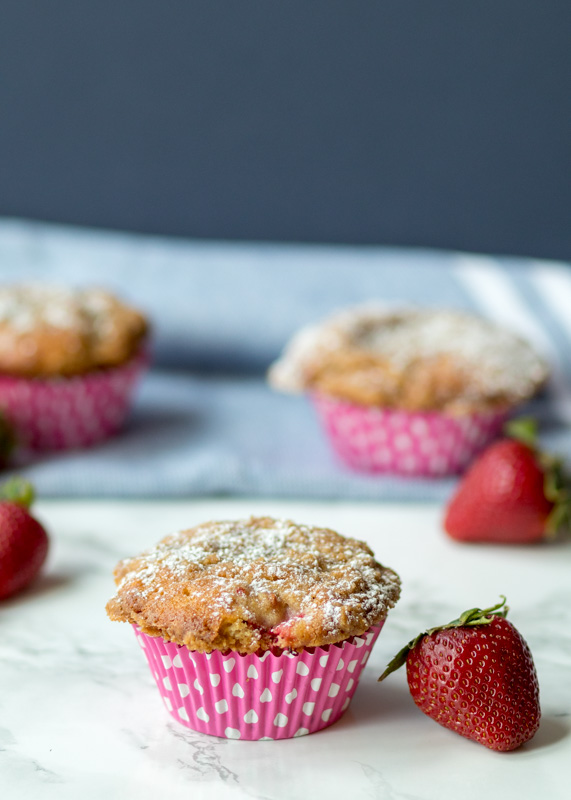 ¾ cup rolled oats, optional (I omitted this)
½ cup packed light brown sugar
½ cup all-purpose flour
¼ teaspoon salt
5 tablespoons cold unsalted butter, cut into pieces
1 stalk rhubarb, cut into ½-inch pieces (about 1 cup)
⅔ cup chopped strawberries
¾ cup plus 1 tablespoon granulated sugar
2 cups all-purpose flour
¾ teaspoon baking powder
½ teaspoon baking soda
½ teaspoon salt
2 large eggs
⅔ cup milk
6 tablespoons unsalted butter, melted an cooled slightly
1 tablespoon lemon juice
Powdered sugar, for dusting
In a medium bowl, mix together the oats (if using), brown sugar, flour and salt. Add the butter pieces and use a fork or pastry blender to cut in the butter until it creates small clumps. Set aside.
Preheat the oven to 350 degrees F. Line a 12-cup muffin pan with paper liners and set aside.
In a small bowl, combine the rhubarb, strawberries and 1 tablespoon of the granulated sugar. Set aside.
In a large bowl, sift together the flour, ¾ cup granulated sugar, the baking powder, the baking soda and the salt. Make a well in the center then add the eggs to the well. Whisk to combine then stir in the milk, melted butter and lemon juice until just combined. Stir in the rhubarb mixture, being sure not to over-mix.
Evenly divide the batter among the 12 muffin cups. They will be filled most of the way to the top. Top the muffin batter cups with the topping. There may be some leftover. Bake the muffins for 25-30 minutes or until a toothpick inserted in the center of the muffin comes out clean and the tops of the muffins are lightly browned. Cool the muffins for 5 minutes in the pan then remove to a wire cooling rack. Once completely cool, dust with the powdered sugar.
Recipe by
Lemon & Mocha
at http://www.lemonandmocha.com/2018/05/07/strawberry-rhubarb-crumble-muffins/