Halloween Witches' Cauldron Cupcakes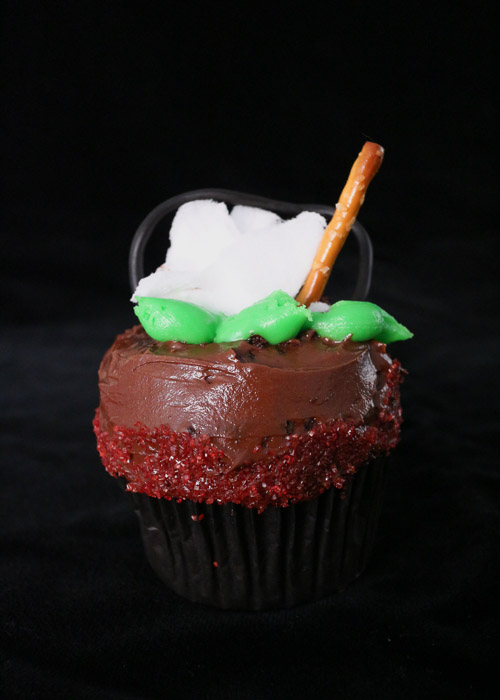 24 chocolate cupcakes in black or dark brown wrappers
1 batch chocolate frosting
Red sugar sprinkles
Bright green decorator's icing
16 thin pretzel sticks
1 bag cotton candy
Black licorice laces
1 toothpick or skewer
Unwrap 8 of the cupcakes and cut them in half horizontally (the top of the cupcake will be one half and the bottom of the cupcake will be the other).
To assemble the cauldron, spread a thin layer of frosting on top of one of the still wrapped cupcakes. Top with 1 cupcake half and try to line the edges up as well as you can. They won't match up exactly because of the rounded cupcake tops.
Seal the cupcake half to the rest of the wrapped cupcake by covering the entire extra-tall cupcake with frosting.
Pour some sprinkles onto a small plate and pile them together. Slowly press the edge of the cupcake nearest the wrapper into the sprinkles. I did this by holding the bottom of the wrapped cupcake in my right hand, slowly turning and re-pressing into the sprinkles, while pressing the index finger of my left hand into the top center of the cupcake to keep it steady. This is the trickiest part.
Press your finger into the top center of the cupcake to make a small indent about half an inch deep and the size of a nickel.
Fill the indent with the green decorator's icing and squeeze it over the sides of the indent so it looks like it's oozing out.
Place a pretzel stick in the indent so it looks like a witch's broom sticking out of the cauldron.
Carefully place some of the cotton candy behind the green decorator's icing. I used a fork to grab it from the bag and fluff it since it tended to lose its airiness if I pressed too hard with my fingers.
Break off about a 3-4 inch piece of black licorice. Poke two holes into opposite sides of the cupcake with the toothpick. Carefully place one end of the licorice into the first hole then arch the licorice to create the cauldron's handle and place the other end in the other hole.
Repeat for the remaining 15 wrapped cupcakes.
Do not put these cupcakes in the fridge as it will cause the cotton candy to dissolve and shrivel. I found cotton candy in the candy section of my grocery store. I had to go to quite a few different candy stores to find black licorice laces, but you could always use red laces if you are unable to find black laces.
Recipe by
Lemon & Mocha
at http://www.lemonandmocha.com/2013/10/24/halloween-witches-cauldron-cupcakes/