Chocolate Marshmallow Monster Cookie Sandwiches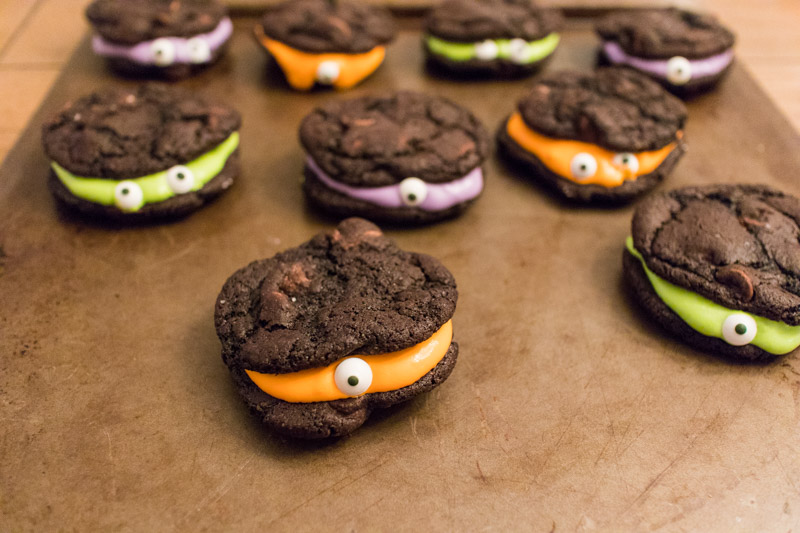 Yield:
12 cookie sandwiches
1 cup all-purpose flour
⅓ cup cocoa powder
⅓ cup Hershey's Special Dark cocoa powder
1 teaspoon baking soda
⅛ teaspoon salt
½ cup butter (1 stick), room temperature
½ cup sugar
½ cup packed brown sugar
1 large egg, room temperature
1 teaspoon vanilla extract
2 tablespoons milk
1 cup semisweet or bittersweet chocolate chips
Sea salt for sprinkling
7 ounce jar marshmallow fluff, about 2 ½ cups
½ cup butter (1 stick), room temperature
⅓ cup powdered sugar
1 tablespoon vanilla extract
⅛ teaspoon salt
Neon gel food colors
Candy monster eyes
In a medium bowl sift together the flour, both kinds of cocoa powder, the baking soda and salt. Stir to combine and set aside.
In the bowl of a stand mixer or in a large bowl with a hand mixer, mix the butter on medium speed until smooth, about one minute. Add the sugar and mix on medium-high speed until combined and fluffy. Add the egg and vanilla and mix on high speed until combined, scraping down the sides as needed.
On low speed, carefully pour the dry ingredients into the wet ingredients until just combined. On high speed mix in the milk until combined, then the chocolate chips. The dough will be very thick and sticky (and tasty!). Avoid eating it so you have batter to make cookies with and put it in the fridge, covered, to chill for at least 3 hours or up to 3 days.
When you've properly chilled the dough, preheat the oven to 350 degrees F and line two cookie sheets with parchment paper and set aside.
Take the dough out of the fridge and let it sit for 20 minutes if it sat in the fridge for longer than 3 hours so it's easier to scoop.
Scoop 1 tablespoon of dough (I used the Oxo medium cookie scoop) and roll into a ball. Place it on the prepared baking sheet and repeat with the rest of the dough. I had 12 balls on each cookie sheet (maybe could have had more, but some dough got taste-tested). Sprinkle each cookie with a little bit of sea salt.
Bake the cookies for 10 minutes. Cool for 5 minutes on the cookie sheet before moving to a cooling rack. Let cool completely. If not frosting right away, store in an airtight container at room temperature.
In the bowl of a stand mixer or a large bowl with a hand mixer, carefully combine the fluff, butter, powdered sugar, vanilla and salt on high speed. Once fluffy divide into smaller bowls depending on how many different colors you want to use. Add the food coloring and mix until the desired color is reached.
Spread about a tablespoon of filling on a cookie then sandwich with another cookie. Continue until all cookies have been sandwiched. The filling is not very thick so do not put too much on or it will ooze out the sides. You could try thickening it with more powdered sugar, but I thought it would make it too sweet. Press monster eyes into the sides.
I prefer to use Ghirardelli chocolate chips, either their semi-sweet or their bittersweet.
Recipe by
Lemon & Mocha
at http://www.lemonandmocha.com/2017/10/31/chocolate-marshmallow-monster-cookie-sandwiches/