Perfect Chocolate Cupcakes & Perfect Chocolate Frosting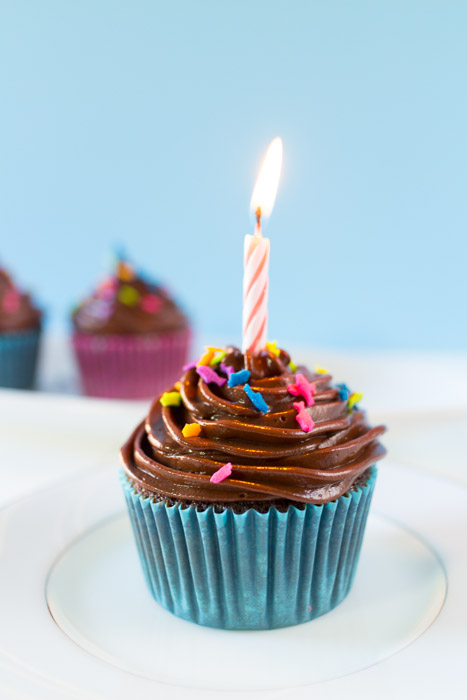 2 cups sugar
1¾ cups all-purpose flour
¾ cup unsweetened cocoa powder
1½ teaspoon baking powder
1 teaspoon baking soda
1 teaspoon salt
2 large eggs
1 cup buttermilk, see note
¼ cup butter, melted
¼ cup vegetable oil
1 tablespoon vanilla extract
1 cup hot coffee, see note
2½ sticks of unsalted butter, softened
1 cup powdered sugar
¾ cup unsweetened cocoa powder
Pinch of salt
¾ cup light corn syrup
1 teaspoon vanilla extract
8 ounces semisweet chocolate
Preheat the oven to 350 degrees and line 2 cupcake pans with paper liners and set aside.
In a large mixing bowl or in the bowl of a stand mixer, sift together the sugar, flour, cocoa powder, baking powder, baking soda and salt.
In a medium mixing bowl, whisk together the eggs, buttermilk, melted butter, vegetable oil and vanilla extract. Pour the liquid ingredients into the dry ingredients and mix together until smooth.
Pour the hot coffee into the batter and stir until combined. The batter will be extremely liquidy. Divide the batter between the 24 cupcake liners, filling them slightly more than half full. Bake for 18-20 minutes, or until a toothpick inserted in the center comes back mostly clean. Alternatively, they are done when you gently press your finger on the center of a cupcake and it lightly springs back. I find mine to be done at exactly 19 minutes.
Let cool in the pan for a couple minutes then remove to a wire cooling rack to cool completely before frosting.
Set the chocolate over a double boiler on medium heat, stirring occasionally.
Meanwhile, combine the butter, powdered sugar, cocoa powder and salt in a food processor or in a large mixing bowl with an immersion blender. Pulse until mixture is smooth and well combined, making sure to scrape sides as needed.
Add the corn syrup and vanilla extract to the butter mixture. I like to lightly spray my measuring cup with cooking spray before measuring out the corn syrup because it helps the corn syrup from sticking to the measuring cup when you go to use it (this works well for honey, too).
Pulse the mixture until well combined, making sure to scrape sides as needed.
If the chocolate is completely melted and smooth, remove from the heat for a few minutes. Carefully pour the melted chocolate into the mixture and process until smooth.
To make your own buttermilk: pour 1 tablespoon of lemon juice or vinegar in a liquid measuring cup. Pour milk, any fat percentage, into the measuring cup until you have 1 cup. Let sit for 5 minutes before using.
If you don't want to use coffee you can use hot water, but the flavor of the chocolate won't be as pronounced. You can use decaffeinated coffee if you prefer.
The cupcakes, unfrosted, freeze very well if you want to make them ahead of time.
Recipe by
Lemon & Mocha
at http://www.lemonandmocha.com/2013/10/22/perfect-chocolate-cupcakes-perfect-chocolate-frosting/