Red Velvet Oreo Truffle Chocolate Crunch Brownies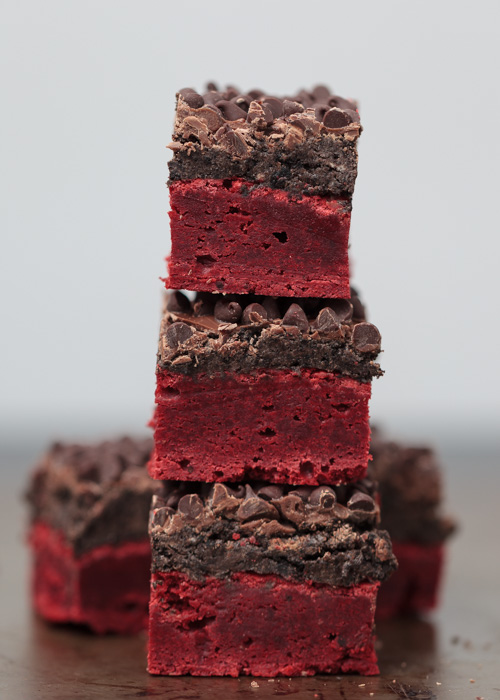 2 sticks unsalted butter (1 cup), room temperature
1½ cups sugar
1½ cups brown sugar
4 large eggs, room temperature
1-2 ounces red food coloring
4 teaspoons vanilla extract
2½ cups all-purpose flour
6 tablespoons unsweetened cocoa powder
½ teaspoons salt
1 package Oreos
8 ounces cream cheese, room temperature
1½ cups semisweet chocolate chips
2 teaspoons vegetable oil
1 cup mini chocolate chips
Preheat oven to 350 degrees F. Grease and flour a 9 x 13 pan and set aside.
Beat the butter, sugar and brown sugar together with the paddle attachment of a stand mixer for 2 minutes, or until fluffy. Add the eggs, one at a time, mixing after each egg is added. Add the food coloring and vanilla extract until the color is completely incorporating and is the desired color.
In a separate medium bowl combine the flour, cocoa powder and salt. Carefully add the flour mixture to the wet ingredients being sure to incorporate completely while trying not to over-mix the batter. The batter will be very thick, but make sure the batter is a uniform color.
Pour the batter into the prepared baking pan and smooth the top. Bake for 35 minutes, or until crunchy on top and gooey underneath. Let cool completely. Once cool you can either leave in the pan or very carefully flip the brownies out onto a large clean surface. I flipped my over onto a clean cutting board that easily fits in my fridge so it would be easier for later refrigerating and cutting.
Turn the entire package of Oreos into crumbs using a food processor or crushing in a large plastic bag. Combine with the cream cheese until blended.
Dollop the Oreo mixture onto the cooled brownies then carefully use your hands and a rubber spatula to create a smooth even layer covering the brownies all the way to the edges. If you try to simply spread you might tear the brownies.
Melt the chocolate chips with the vegetable oil in the microwave. Microwave for 30 seconds, stir, then continue to microwave in 10 second intervals, stirring after each, until melted and smooth. Carefully pour over the Oreo truffle layer and smooth with a rubber spatula. Sprinkle with the mini chocolate chips then refrigerate until the chocolate crunch layer has hardened.
Recipe by
Lemon & Mocha
at http://www.lemonandmocha.com/2015/02/08/red-velvet-oreo-truffle-chocolate-crunch-brownies/