Cheesy Corn & Chorizo Dip with Green Chiles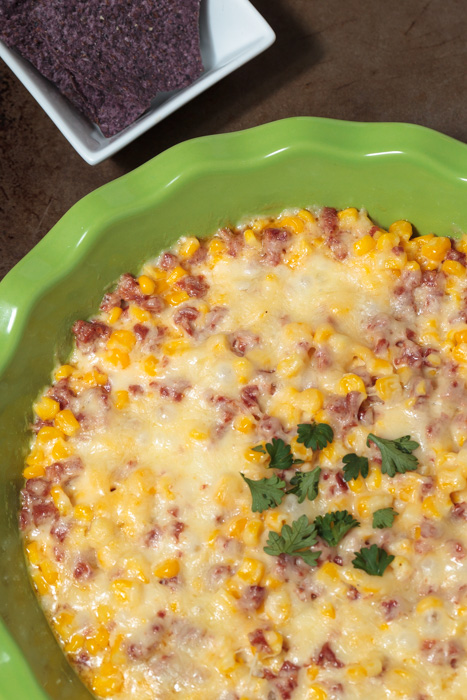 ½ pound ground chorizo or linguica (Portuguese sausage)
2 cups frozen corn, cooked
1 4-ounce can diced green chiles, drained
1 ¾ cups shredded Monterey jack or pepper jack cheese
½ cup grated Parmesan cheese
½ cup mayonnaise
Cook the ground meat in a frying pan over medium-high heat until cooked through and sizzling. Drain well on paper towels.
In a medium bowl combine the cooked sausage, chiles, corn, 1 ½ cups of the shredded monterey jack or pepper jack cheese, Parmesan cheese and mayonnaise.
Scoop the mixture into a 9" pie dish or an 8x8" baking dish. Sprinkle with the remaining ¼ cup of cheese. Cover and refrigerate until ready to serve. When ready to eat, uncover the dish, heat in the microwave for 7 minutes then serve with tortilla chips.
If you have a block of Monterey jack instead of shredded cheese you can take about 8 ounces of it and cut to a rough small dice.
Recipe by
Lemon & Mocha
at http://www.lemonandmocha.com/2014/12/29/cheesy-corn-chorizo-dip-with-green-chiles/