Mini Molten Chocolate Pecan Pies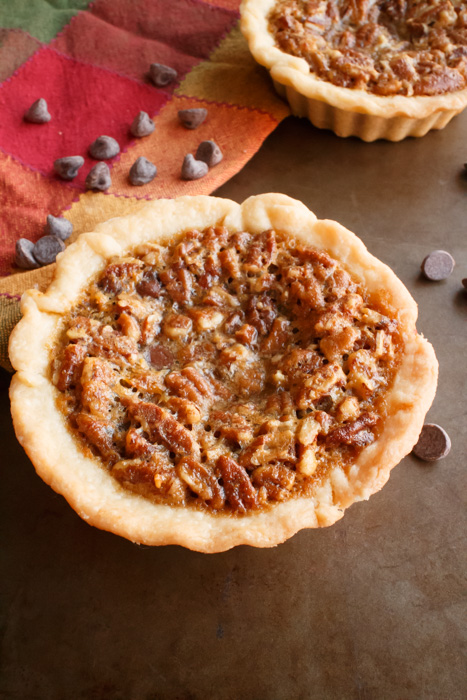 3 eggs, beaten
¾ cup brown sugar
2 tablespoons flour
1 teaspoon vanilla extract
¾ cup dark corn syrup
3 tablespoons butter, melted
1¼ cups pecan halves
¾ cup mini semisweet chocolate chips
1 sheet unbaked pie crust, pressed into mini pie pans
Preheat oven to 350 degrees F. Pre-bake the pie shells, making sure to use pie weights, for 7 minutes.
Combine the eggs, brown sugar, flour, vanilla extract and corn syrup in a medium mixing bowl. Add the melted butter and stir. Add the pecans and chocolate chips then stir. Distribute evenly into the prepared mini pie shells.
Bake for 20 minutes with a sheet pan underneath to catch any dripping.
To make one pie instead of mini pies, press the pie crust into a 9" pan. Pour all the filling into the pie shell then bake for 50-60 minutes. Cover the crust with aluminum foil partway through baking so the crust doesn't get burnt.
Recipe by
Lemon & Mocha
at http://www.lemonandmocha.com/2014/11/24/mini-molten-chocolate-pecan-pies/