Mini Baked Turkey Meatballs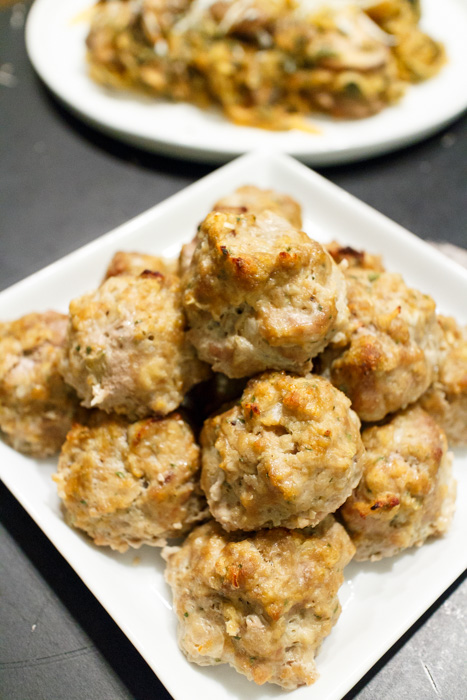 1 small onion, grated
3 cloves garlic, minced
1 large egg
¼ cup bread crumbs
3 tablespoons ketchup
¼ cup chopped fresh parsley or 2 tablespoons dried parsley
½ cup grated fresh Parmesan
1 teaspoon salt
¼ teaspoon ground black pepper
1 pound ground turkey (look for ground turkey that isn't all turkey breast meat)
Preheat oven to 400 degrees F. Line a baking sheet with parchment paper and set aside.
In a large mixing combine all the ingredients except the turkey. Add the ground turkey and mix until just combined.
Form the meatballs with a diameter of 1½" and place evenly on the prepared baking sheet. Bake for 20 minutes.
To freeze, place the cooled meatballs so they aren't touching on a baking sheet small enough to fit in your freezer lined with parchment paper. Once the meatballs feel frozen, store in a freezer bag. To reheat, place in sauce while warming up. To heat in the microwave, cook for 1.5-2 minutes for 3 meatballs; 3 minutes for 6 meatballs.
Recipe by
Lemon & Mocha
at http://www.lemonandmocha.com/2014/11/22/mini-baked-turkey-meatballs/