Dry Rubbed Roast Pork Tenderloin with a Roasted Garlic & Balsamic Sauce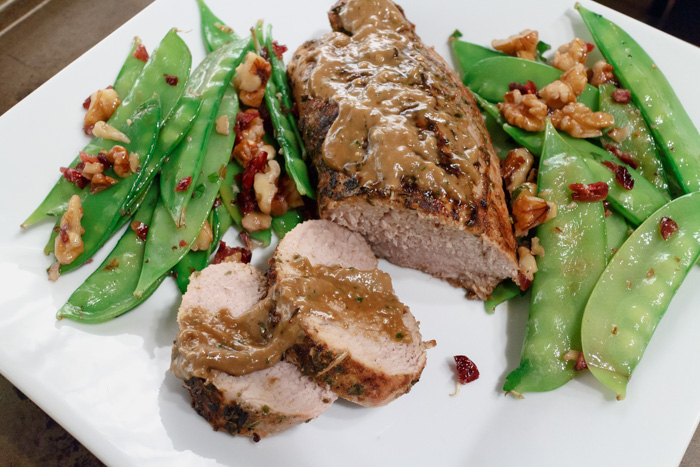 1 teaspoon garlic powder
1 teaspoon dried oregano
1 teaspoon ground cumin
1 teaspoon dried parsley
½ teaspoon onion powder
½ teaspoon ground coriander
¼ teaspoon salt
1 pound pork tenderloin
1 tablespoon olive oil
1 head garlic
⅓ cup olive oil
¼ cup balsamic vinegar
½ teaspoon sugar
1 tablespoon chopped fresh parsley
½ teaspoon Dijon mustard
Salt and pepper
Preheat the oven to 450 degrees F.
In a small bowl mix together all the dry seasonings until well combined. Place the tenderloin on a cutting board and sprinkle the rub all over. Rub and gently press the seasoning onto the pork.
Heat the olive oil in a large skillet over medium-high heat. Cook the tenderloin in the pan for 10 minutes, using tongs to turn the pork and sear each side.
Transfer the pork to the rack of a roasting pan and bake for 20 minutes or until it reaches an internal temperature of 150-155 degrees F. Slice then top with the sauce before serving.
Cut the top off the head of garlic so that almost all the cloves are exposed. Place the head of garlic in a little square of tinfoil and curve up the sides. Lightly drizzle the garlic with olive oil then season with salt and pepper. Seal up the tinfoil to make a little packet. Roast for 35 minutes then let cool. Once it's cool enough to handle, squeeze out the roasted garlic cloves.
Blend the roasted garlic cloves and the rest of the ingredients in a small food processor or with an immersion blender until smooth.
Make sure you note the first step in the sauce recipe (roasting the garlic) before starting the pork.
Recipe by
Lemon & Mocha
at http://www.lemonandmocha.com/2014/11/07/dry-rubbed-roast-pork-tenderloin-with-a-roasted-garlic-balsamic-sauce/