Smoked Salmon Salad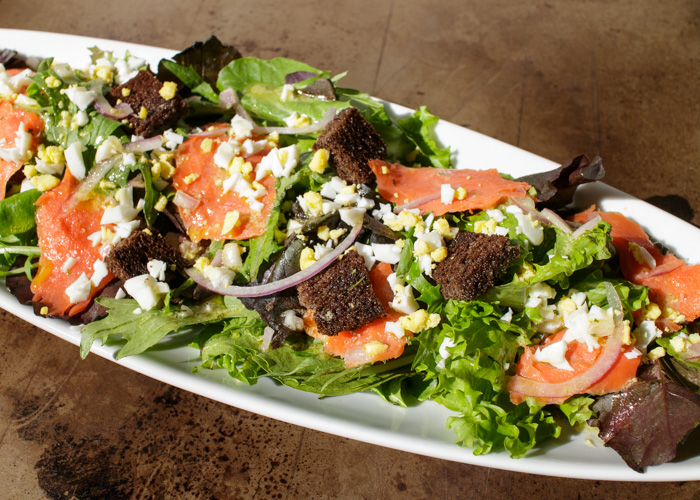 ⅔ cup ½ inch cubes of pumpernickel bread
8 cups mixed greens
6 ounces smoked salmon slices
2 hard boiled eggs, crumbled with a fork
Thinly sliced red onion
½ shallot, minced
1 tablespoon lemon juice
1 tablespoon apple cider vinegar
2 teaspoons dijon mustard
1 teaspoon parsley flakes
1 teaspoon capers, optional
¼ cup olive oil
Salt and pepper
Preheat the oven to 400 degrees F. Very lightly toss the bread cubes with olive oil, salt and pepper. Place evenly on a pan and cook until crisp, about 10 minutes.
Place the greens on a medium serving bowl or platter. Layer the smoked salmon, hard boiled egg crumbles and sliced red onion on top. Drizzle the salad dressing on top then serve.
Combine the shallot, lemon juice, vinegar, mustard, parsley and capers, if using, in a small bowl or liquid measuring cup. Whisk in the olive oil until emulsified. Season with salt and pepper to taste.