Caramelized Onion & Apple Dip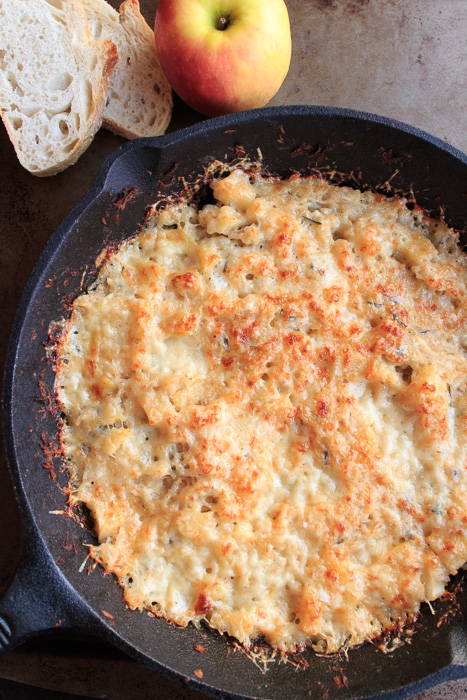 2 tablespoons unsalted butter
3 medium sweet onions, diced small
2 tablespoons minced fresh chives
2 sweet-tart apples, such as Pink Lady, peeled and diced
2 ounces soft herb cheese, such as Boursin or herb goat cheese
1 cup shredded Gruyere
1 cup shredded Parmesan
Salt and pepper
Preheat oven to 375 degrees F.
Place a cast-iron skillet over medium heat. Melt the butter in the skillet then add the onions and chives. Cook, stirring occasionally, until the onions are softened and have started to brown about 10-15 minutes.
Add the apples. Continue to cook, stirring occasionally, for 20 minutes.
Stir in the soft herb cheese then season with salt and pepper to taste.
Evenly sprinkle the shredded cheeses over top then bake in the oven for 20 minutes, or until cheeses are bubbly and browned. Remove from the oven and let sit 5 minutes before eating.
Recipe by
Lemon & Mocha
at http://www.lemonandmocha.com/2014/09/19/caramelized-onion-apple-dip/