Sweet & Sticky Honey Baked Wings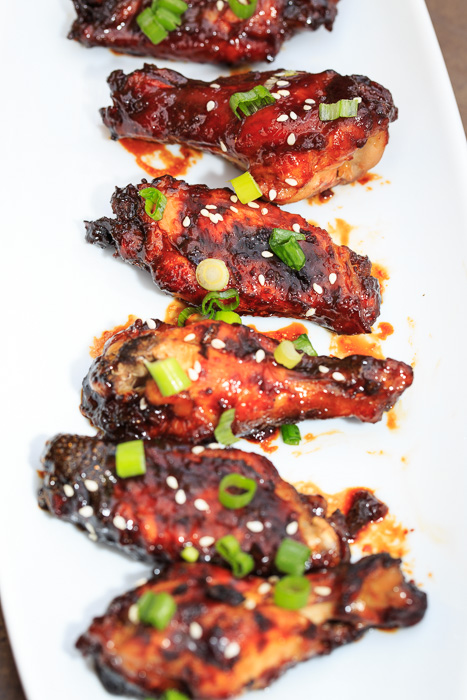 ½ cup low sodium soy sauce
1 cup honey
2 tablespoons vegetable oil
1 teaspoons rice vinegar
2 garlic cloves, chopped
2 tablespoons chopped fresh ginger
4 pounds chicken wings & drumettes
1 scallion, chopped, for garnish
Toasted sesame seeds, for garnish
Preheat the oven to 375 degrees F. Line a 9" x 13" with nonstick tin foil and set aside.
Combine the soy sauce, honey, vegetable oil, rice vinegar, garlic and ginger in a medium saucepan with a whisk. Bring the honey mixture to a boil then simmer on low for 10 minutes, stirring occasionally.
Place the split chicken wings in the prepared pan. Pour the heated honey mixture over the wings then toss to coat.
Bake the chicken wings for about 1 hour or until it reaches an internal temperature of 165 degrees F and the skin has darkened. Garnish wings with scallions and sesame seeds before serving.
To break down the wings follow the steps below:
*Clip off the wing tip at the knuckle using a pair of kitchen shears. Dispose the wing tip or save for homemade chicken stock.
*Make a small snip in the fat between the wing and the drumette so it's easier to get to the joint.
*Cut the knuckle between the wing and the drumette to separate them.
*Cut off any excess fat.
Recipe by
Lemon & Mocha
at http://www.lemonandmocha.com/2014/09/03/sweet-sticky-honey-baked-wings/