Peaches, Blueberries & Cream Delight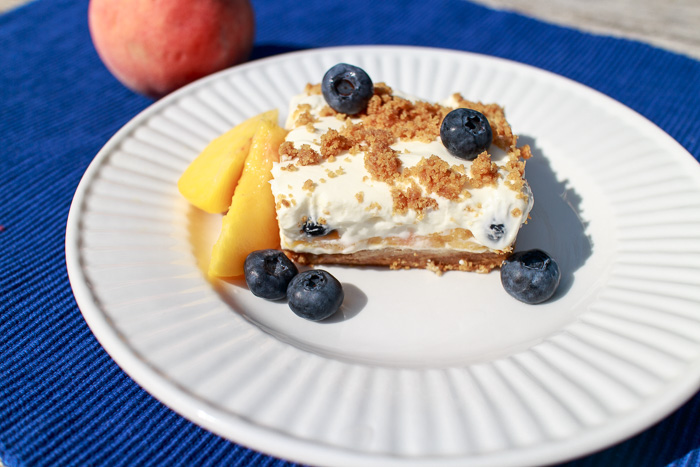 3 cups graham cracker crumbs, about 2 sleeves of graham crackers
3 tablespoons sugar
12 tablespoons butter (1 ½ sticks), melted
8 ounces light cream cheese, room temperature
1 ½ cups powdered sugar
½ teaspoon vanilla extract
2 cups heavy cream, chilled
5 fresh peaches, peeled, pitted and thinly sliced
1 cup fresh blueberries
Combine the graham cracker crumbs and sugar in a medium bowl. Add the melted butter and mix until combined. Reserve ⅓ of the crumb mixture for topping the dessert. Press the remaining crumb mixture into the bottom of a 9" by 13" pan. Refrigerate while making the filling.
In a large bowl beat the cream cheese and powdered sugar together until light with a hand mixer or a stand mixer. Beat in the vanilla.
Carefully pour in the heavy cream and beat on low. As the mixture starts to come together bring the speed up to medium-high and continue until the mixture is thick and airy.
Take the crust out of the fridge and spread a thin layer of the cream over the crust. Layer the sliced peaches on top, followed by the blueberries.
Scoop large blobs of cream onto the fruit and carefully bring together with your rubber spatula to cover the fruit. Continue adding the cream until the 9" by 13" pan is filled to the edges.
Sprinkle with the reserved graham cracker crumbs and cover with plastic wrap before returning to the fridge. Let sit in the fridge for 2-12 hours before serving.
Recipe by
Lemon & Mocha
at http://www.lemonandmocha.com/2014/08/26/peaches-blueberries-cream-delight/