Coconut Lime Chicken Satay with Peanut Sauce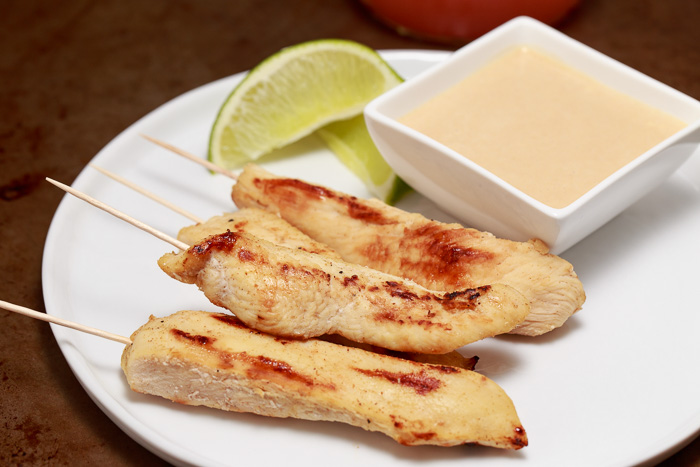 1 garlic clove, minced
½" piece of fresh ginger, peeled and grated
½ lime, juiced
1 tablespoon lime zest
½ cup coconut milk
1 tablespoon soy sauce
1 tablespoon peanut butter
1 tablespoon honey
1 teaspoon rice vinegar
1 teaspoon ground coriander
½ teaspoon sesame oil
½ teaspoon cumin
¼ teaspoon salt
2 pounds boneless skinless chicken breast, sliced into thin strips
1 cup coconut milk
½ cup smooth peanut butter
1 lime, juiced
2 cloves garlic
½" piece of fresh ginger, peeled
1 tablespoon low sodium soy sauce
1 ½ teaspoons rice wine vinegar
1 ½ teaspoons sugar
¼ teaspoon crushed red pepper flakes
Combine all the ingredients except the chicken in a large mixing bowl with a whisk. Add the chicken strips and toss until well coated. Cover and refrigerate to allow the chicken to marinate for at least 1 hour or overnight.
Heat the grill or grill pan over high heat. Evenly thread the chicken strips with skewers. If using wooden skewers soak them in water first.
Grill the chicken for 4-5 minutes on each side then reduce the heat to medium-low and cook for a 1-2 more minutes per side or until it reaches an internal temperature of 165 degrees F. Serve with the peanut sauce.
Combine all the ingredients in a blender or small food processor until smooth. Taste and adjust seasoning accordingly. If you would prefer a thicker consistency add more peanut butter then remix. If you would prefer a thinner consistency add more coconut milk then remix.
Recipe by
Lemon & Mocha
at http://www.lemonandmocha.com/2014/08/13/coconut-lime-chicken-satay-with-peanut-sauce/