Banana Bread French Toast with Caramelized Bananas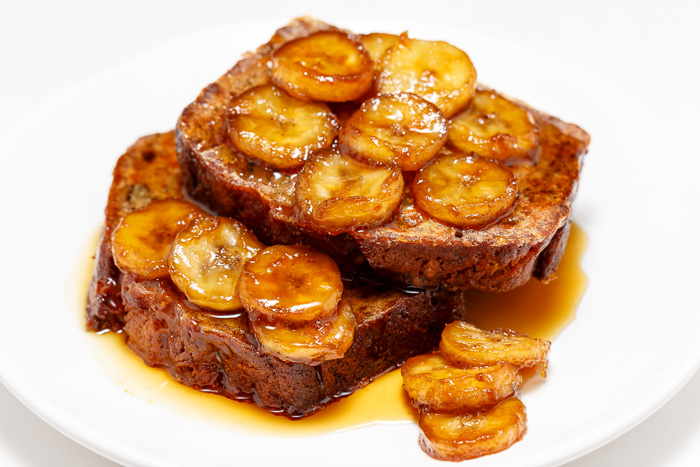 2 eggs
3 tablespoons milk
½ teaspoon vanilla
½ teaspoon ground cinnamon, divided
¼ teaspoon ground nutmeg, divided
Cooking spray or 1 tablespoon butter
4 slices thick cut banana bread
1 tablespoon butter
1 banana, sliced into coins
2 tablespoons brown sugar
In a shallow bowl large enough to fit the slices of bread beat the eggs with a fork or whisk.
Add the milk, vanilla, ¼ teaspoon ground cinnamon and ⅛ teaspoon ground nutmeg then mix or whisk to combine.
Heat a griddle or skillet over medium heat and coat with cooking spray or the tablespoon of butter.
Lay two of the slices of banana bread flat in the egg mixture and let sit for 1 minute. Flip the slices and let sit for another minute. Pick up the slices and let all the excess egg mixture drip off. If there is a lot of excess egg mixture that won't drip off push off with the fork or whisk.
Place on the heated griddle or skillet. Let cook for 4 minutes, or until brown, then flip. Cook the other side of r 4 minutes, or until brown. Remove from the heat and top with the caramelized bananas.
Repeat with the remaining serving.
Melt the butter in a small skillet over medium heat. Add the banana slices and brown sugar. Carefully stir to coat. Continue to cook the banana slices until softened and coated in the syrup, about 5 minutes.
Recipe by
Lemon & Mocha
at http://www.lemonandmocha.com/2014/08/08/banana-bread-french-toast-with-caramelized-bananas/