S'mores Cupcakes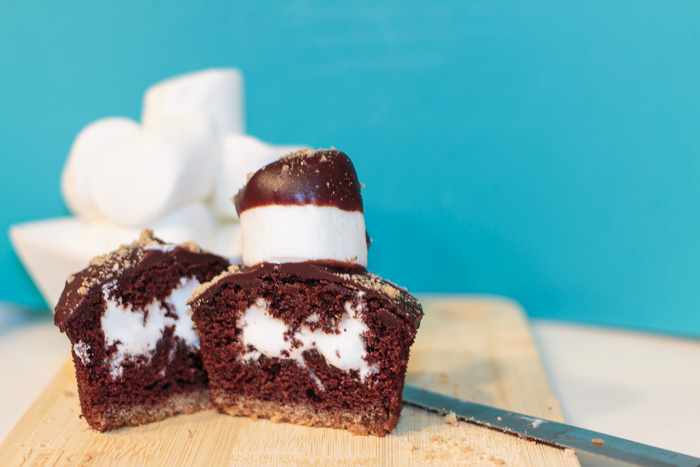 1½ cups graham cracker crumbs
5 tablespoons butter, melted
2 cups sugar
1¾ cups all-purpose flour
¾ cup unsweetened cocoa powder
1½ teaspoon baking powder
1½ teaspoon baking soda
1 teaspoon salt
2 large eggs
1 cup buttermilk
½ cup butter, melted
1 tablespoon vanilla extract
1 cup fresh hot coffee
12 ounces Marshmallow Fluff
½ cup heavy cream, optional
½ cup chocolate chips
1 tablespoon vegetable oil
24 marshmallows
⅓ cup graham crackers crumbs, divided
1 cup chocolate ganache
Preheat the oven to 350 degrees F.
Mix together the graham cracker crumbs and melted butter together until combined. Line 2 cupcake pans with 24 paper liners. Place a tablespoon of the graham cracker mixture into each wrapper and press to evenly cover the bottom of the wrapper. Set aside.
In the bowl of a stand mixer combine the sugar, flour, cocoa powder, baking powder, baking soda and salt.
Once the mixture is combined add the eggs, buttermilk, melted butter and vanilla extract. Beat the mixture on medium speed for 2 minutes.
Carefully stir in the hot coffee until well combined. The batter will be extremely liquidy.
Pour the batter evenly between the 24 paper liners over the pressed graham cracker mixture. Bake on the middle rack of an oven for 18-22 minutes or until a toothpick inserted into the center of a cupcake comes out with no batter on it.
Completely cool cupcakes on a wire rack before filling and topping.
Line a baking sheet or firm cutting board narrow enough to fit in your fridge with wax or parchment paper. Set aside.
Using a cupcake corer, apple corer, or knife create a large cavity in the center of each cupcake. Reserve the top of the removed cupcake piece. Fill the cavity with 1-2 tablespoons of Marshmallow Fluff. If the Fluff is too thick to handle, whip it with some heavy cream, a couple tablespoons at a time until it reaches the desired consistency. Place the top of the removed cupcake piece on top of the Fluff filling to seal the cupcake back up. Place the cupcakes in the fridge to chill.
While the cupcakes are in the fridge melt the chocolate chips in a double boiler over medium heat. Once melted remove from the heat and stir in the vegetable oil until smooth. Dip half of each marshmallow in the chocolate and place on the prepared baking sheet or cutting board. Sprinkle the dipped marshmallows with graham cracker crumbs before the chocolate sets. Place in the fridge to harden.
Remove the cupcakes from the fridge and carefully dip the top of each cupcake in the chocolate ganache to coat it. Place a chocolate dipped marshmallow on each cupcakes before the ganache sets. Sprinkle with the remaining graham cracker crumbs, place it in the fridge for the ganache to harden.